2020 Volvo XC90 T8 E-AWD Inscription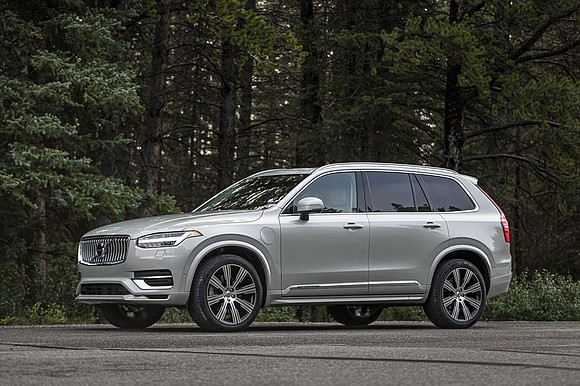 Volvo may have outdone itself with the 2020 XC90 T8-AWD Inscription. This mid-size sport utility was luxurious, powerful and functional.
The T8 Twin Engine Volvo, that's what the automaker is branding this plug-in hybrid, had two power sources. A 313 horsepower four-cylinder engine provided the gasoline kick and it was supplemented by an 87-horsepower electric motor mounted on the rear axle.
Together they were rated at 400 horsepower and a hefty 472 lb.-ft. of torque. An eight-speed automatic transmission transferred that power to the pavement, and it did so smoothly.
The T8 had an EPA rating of 20 mpg in the city, 27 mpg on the highway and 23 mpg combined. On the way here, we gassed up in Indiana where petrol is cheaper, about 50 miles away from our destination. The XC90 T8 had used a little more than half of its 18.5-gallon fuel capacity. We didn't think that was bad.
As for brut power, the XC90 had a maximum speed of 140 mph and it could get from zero to 60 mph in 5.3 seconds.
Although this XC90 had regenerative brakes, it needed to be plugged in to fully charge the lithium-ion battery, which took four hours to get a full charge.
Speaking of those brakes, in a what the heck moment on I-94 W a worker stepped out in the road (interstate!) to fill a couple of potholes. We couldn't believe it but stepped on the brakes to slow the XC90 from 80 mph. It slowed evenly and decisively without locking the wheels. The driving public has forgotten the screeching and sliding that came with abrupt braking before the advent of ABS.
Volvo's product resurgence started with the XC90. In effect, it is the brand's flagship. In that regard, it incorporates the best that Volvo has to the offer.
This powertrain was smooth and quiet; the gasoline engine remained silent during startup. It wasn't until the vehicle got underway then it kicked in.
Power was even and subdued until needed. Acceleration was understated, the XC90 would step away from traffic when needed. And it did so quietly. We can't overemphasize the quietness with which this vehicle operated.
That sophisticated character of the X90's performance fit the ambience or atmosphere of the passenger cabin, or minimalist luxury at its best. This trim was called a gray ash wood decor. The wood trim was porous, the perforated leather was leather, so too were the sun visors and grab handles over the doors. The headliner was what Volvo called Nubuck; it was light gray.
We had the Inscription trim line which was luxury piled upon luxury. It had massaging heated and cooled front seats, heated second row seats and a heated steering wheel. Amongst its stand-alone options were 21-inch wheels, a four-corner air suspension, park assist pilot and a $3,200 premium sound system. And the gear shifter had Volvo's crystal knob.
The advanced package featured full LED adaptive headlights, a headlight high pressure cleaning system, a 360-degree surround camera and a heads-up display.