Pritzker issues mandatory stay-at-home order for all of Illinois
Governor stresses order is 'not marshal law'
By Rex Robinson | 3/22/2020, 10:17 p.m.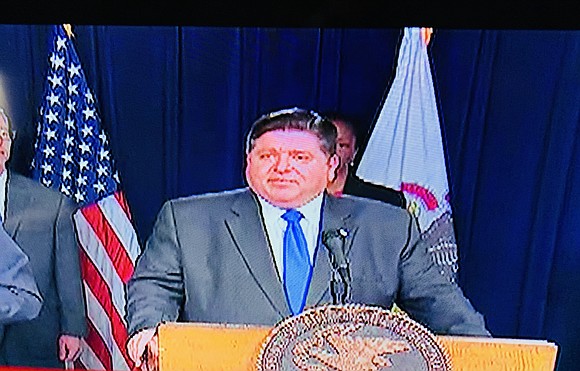 Illinois Gov. J.B. Pritzker on Friday afternoon issued a mandatory statewide stay-at-home order for all residents which started this past Saturday and runs through April 7.
Before making the announcement about the stay-at-home order Friday, Pritzker said a fifth person in Illinois had died with the Coronavirus. That number rose to nine by Sunday.
Making the decision on a statewide stay-at-home order, he added, did not come easy for him but was necessary.
He first encouraged those who do not have to leave their homes to go to work to start working from home now.
"Ultimately you can't have a livlihood if you don't have a life," he said. "Of all the obligation that weigh on me as Governor, this is by all means the greatest," Pritzker said. "If there are actions I can take in the midst of this pandemic than I have an obligation to take these actions."
Congressman Bill Foster (D-IL) said in a prepared statement that he fully supports Pritzker's decision to "issue a stay-at-home order for the entire state as we continue to fight the spread of the deadly COVID-19 virus. I will continue to work with my congressional colleagues to make sure the federal government does all it can to support the workers and businesses who face uncertainty and economic distress due to the public health emergency we find ourselves in.
"I urge everyone to take social distancing seriously," Foster added. "It's the best tool we have today to slow the spread of this virus, keep our health care infrastructure from being overwhelmed, and ultimately save lives. We are all in this together and we will overcome this challenge."
Pritzker described what a stay-at-home order means by first outlining what will remain the same. Residents, he said, will still be able to leave their homes to go to the grocery store, pharmacy, medical appointments, hospitals or gas stations. "You'll still be able to go running and hiking or walk your dog. Many, many people will still go to work," Pritzker said. "For the vast majority of you already taking precautions, your lives will not change very much."
Pritzker added there is no need to rush out to the grocery stores and gas stations, stressing that those busineses will remain open. Banks, agriculture, the press, veterinarians and plumbers, roads and bridges… "the fundamental building blocks that keep our society safe and steady will not be closing down," he said. "You can still pick up dinner from your local restaurant, pick up your prescriptions and just spend time with your family. We're doing all we can to maintain as much normalcy as possible while taking the steps that we must to protect you."
What will change, he added, is that all non-essential business must stop operating. "If you can work from home and aren't already doing so, now is the time when you must," Pritzker said.
Healthcare workers, first responders, and other essential workers, he added, cannot stay home - "We need you. This executive order is fundamentally about the rest of us and what we can do to support the people on the front lines of this fight and the people most vulnerable to its consequences," Pritzker said. "We know this will be hard and we're looking at every tool that we have to help you through this crisis."
Pritzker made it clear that this will not be "marshal law" where military will be out making sure people are staying in their homes.
For more information, visit https://www2.illinois.gov/sites/coronavirus/Pages/default.aspx.