Will County businesses struggling to get through tough times
By Rex Robinson | 3/25/2020, 7:43 p.m.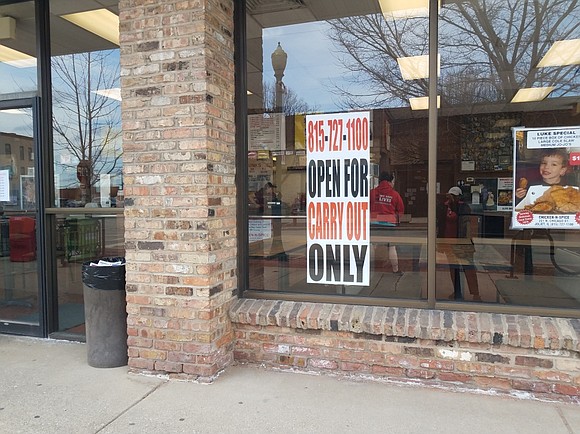 Business owners throughout Will County are doing what they can to stay afloat during the Coronavirus pandemic as many have been negativtely impacted from the mandatory stay-at-home order by Illinois Gov. J.B. Pritzker.
Illinois State Treasurer Michael Frerichs said small businesses throughout the state can tap into $250 million in low-interest bridge loans to help push through the COVID-19 pandemic.
The state treasurer's office will make $250 million available to Illinois banks and credit unions that wish to participate, he said. The financial institutions will determine who is eligible for the loans.
"We can move faster than the federal government and its partners because we are not slowed by the partisanship that overshadows such efforts," Frerichs said. "Part of ensuring the health and well-being of our residents includes making sure small-business owners stay solvent so their workers can be paid."
Larry Ivory, president and CEO of the Illinois State Black Chamber of Commerce, said he has had a series of conference calls across the state in response to the Coronavirus and how it is impacting members of the chamber.
"Our businesses are being dramatically impacted by the Coronavirus," Ivory said. "Barber shops and restaurants, especially sit down restaurants, are being hammered."
The chamber, he added, also has been directly impacted in that it has had to cancel two big events, including a Family Night at the United Center for a Chicago Bulls game where 300 people were scheduled to attend and a Lobby Day in Springfield.
Ivory expressed skepticism about some of the loan programs from the SBA and the Illinois State Treasurer's office. "Many times the qualifications to get those loans exclude a lot of African American business owners," Ivory said.
Nauteia Brass owns Insure It at 122 N. Ottawa St., in Joliet, and also is a board member of the Illinois Black Chamber of Commerce. Her insurance and accounting firm relies heavily on walk-in business and, she said, she's had to close her doors because of the Coronavirus crisis.
A loan, Brass added, would help the firm greatly. "We only hope that they don't make the application process difficult for suffering businesses," she said.
This virus hit her firm during tax season and the loss in revenue has been "great." She said the
firm's insurance services are suffering as well. "Consumers aren't receptive to sales calls due to the pandemic," she said. "We want our customers to know that even though our locations are closed, we are still available to offer some of our services to them via phone or electronically."
The firm can be reached at (833) 834-2383 or visit the website at www.insureitauto.com or www.accountingworx.com.
Erica Holmes, owner of SimJonki Consulting Enterprise in Joliet another African American business, said her business is "maintaining due to the fact we can work remotely. We would prefer to see our clients in person," Holmes said. "The only difference currently is not seeing our clients in person."
Holmes said, like always, she relies heavily on her faith. "God is always in the front of my business. We trust God to get us through," she said.
SimJonki Consulting Enterprise can be reached at (757) 266-2702.
Nick Janowski, one of the owners of Tucker's Doggie Delights, 2011 Calistoga Drive, New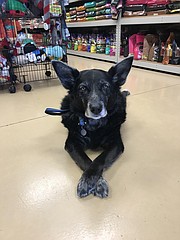 Lenox, said his family's business did well until the governor's stay-at-home order took effect.
We saw a sharp increase in sales last week but after the stay-at-home order we saw a sharp decline," Janowski said.
Plans for the business are to stay open with shortened hours. Future sales, he said, will determine whether additional modifications will be necessary. "Our staffing needs will also be impacted," he added.
A bridge loan from the state or the SBA could possibly help, Janowski said. "It really depends on our ability to stay open and the demands of our customers.  If we need to cut hours or close for any length of time having cash available to pay our employees, our vendors and ourselves could be helpful."
The Coronavirus has prompted some other changes around the shop. "Although we keep the store clean normally, we've increased our efforts focusing on the areas that our staff and customers routinely (touch)," Janowski said.
They have also addressed some safety concerns by promoting online and phone ordering and offering curbside pick-up and delivery to a handful of local communities.
"We are working hard to keep everything as normal as we can. Our pets still need to eat and get supplies. We've seen buying patterns change and we've attempted to keep our shelves filled," he said. "Our suppliers have seen massive demand increases from us as well as other stores. They  have indicated a need to start rationing product to the stores until their warehouses are restocked. Reducing panic buying and stockpiling will help, but as our orders are shorted we will be forced into a situation where we need to ration. Our customers have been very accommodating when asked and we do appreciate everyone's adjustment as this crisis continues."
Tucker's Doggie Delights can be reached at www.tuckersdoggiedelights.com.
Mike Paone, vice president of the Joliet Region Chamber of Commerce & Industry, is urging the businesses to weigh all options before opting for any kind of loan. Paone has been fielding many calls about the state's bridge loan option as well as another being offering through the Small Business Associaiton (SBA) from some of the chamber's 1,000 members as well as area local officials.
The chamber, he added, encourages all members to start by going to the local banks and financial institutions they've been dealing with over the years to explore options.
"I'm going to assume all businesses are going to need some financial assistance," Paone said. "I think it's important they first talk to the trusted financial people they've always dealt with just as when they have had a slow financial quarter to find out their options. Just like anything else, you're going to need to weigh the positives and the negatives."
One of the big factors with the Coronavirus pandemic is not knowing when things will get back to normal, he added. "It's that fear of the unknown," Paone said. "If you at least know what you're up against, you can make plans, but when uncertainty sets in, it's not a good thing."
Businesses considered non-essential and bars without kitchen set-ups are likely the ones hurting the most during this time, Paone said. However, he did hear that some of the local breweries were offering curbside pick up for packaged liquor just like the restaurants are doing.
"Now is a really good time to think outside the box and pivot to areas you might not have thought out before," Paone said. "You may see many businesses who reinvent themselves at this time."
The Joliet Chamber along with others, such as the Romeoville Chamber of Commerce, are encouraging everyone to shop local at this time and are offering various incentives for doing so.
"In the end, we ultimately want everyone to keep their doors open," Paone said.
Lenny Criddle, president and CEO of the Romeoville Chamber of Commerce, posted a letter to all his members on the chamber's website. In it, he referenced to Pritzker's mandatory stay-at-home order and how owners of certain non-essential businesses should be working from home.
"To the Chamber and our local communities, trust me all of our businesses are 'essential,'" Criddle said in the letter. "You employ local people, provide tax dollars and provide services and products we need. As owners and managers, your companies are essential to you and your staffs' livelihoods. …
"As you determine your business' response to this order, please let the Romeoville Area Chamber know if you need assistance publicizing this information."
For more information about what some of the Joliet and Romeoville chambers are doing during the Coronavirus crisis, visit their websites. The Romeoville Chamber of Commerce has a resource page with information on the Coronavirus on its website https://www.romeovillechamber.org. The Joliet Chamber Region of Commerce & Industry also has a variety of resources for its members on its website at https://jolietchamber.com.
Kraig Lounsberry, president of the Community Bankers Association, encourages its members to participate in the Illinois State Treasurer's Office loan program. "Partnering with the state treasurer's office will give community banks a powerful new tool to quickly protect small businesses suffering during this crisis," Lounsberry said.
The Illinois State Treasurer's Office can move faster than others because facilitating low-interest loans is one of its core functions. These linked-deposit loans have been a staple for decades. The most widely known linked deposit is Ag Invest, which helps farmers with annual and long‑term loans to be used for operating costs, equipment purchases, livestock purchases, and construction-related expenses. Established in 1983, Ag Invest has provided more than $4 billion in loans.
"In Illinois, we can move more quickly than others because the treasurer's office already has the authority to create these loan programs. These loans can help businesses stay solvent today, when they need the help," said Illinois Sen. Scott Bennett, D-Champaign.
For more about the Illinois Small Business COVID-19 Relief Program, visit illinoistreasurer.gov.