Will County businesses struggling to get through tough times
By Rex Robinson | 3/25/2020, 7:43 p.m.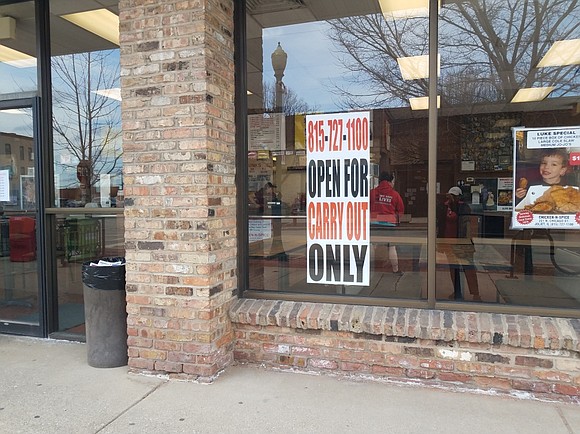 Business owners throughout Will County are doing what they can to stay afloat during the Coronavirus pandemic as many have been negativtely impacted from the mandatory stay-at-home order by Illinois Gov. J.B. Pritzker.
Illinois State Treasurer Michael Frerichs said small businesses throughout the state can tap into $250 million in low-interest bridge loans to help push through the COVID-19 pandemic.
The state treasurer's office will make $250 million available to Illinois banks and credit unions that wish to participate, he said. The financial institutions will determine who is eligible for the loans.
"We can move faster than the federal government and its partners because we are not slowed by the partisanship that overshadows such efforts," Frerichs said. "Part of ensuring the health and well-being of our residents includes making sure small-business owners stay solvent so their workers can be paid."
Larry Ivory, president and CEO of the Illinois State Black Chamber of Commerce, said he has had a series of conference calls across the state in response to the Coronavirus and how it is impacting members of the chamber.
"Our businesses are being dramatically impacted by the Coronavirus," Ivory said. "Barber shops and restaurants, especially sit down restaurants, are being hammered."
The chamber, he added, also has been directly impacted in that it has had to cancel two big events, including a Family Night at the United Center for a Chicago Bulls game where 300 people were scheduled to attend and a Lobby Day in Springfield.
Ivory expressed skepticism about some of the loan programs from the SBA and the Illinois State Treasurer's office. "Many times the qualifications to get those loans exclude a lot of African American business owners," Ivory said.
Nauteia Brass owns Insure It at 122 N. Ottawa St., in Joliet, and also is a board member of the Illinois Black Chamber of Commerce. Her insurance and accounting firm relies heavily on walk-in business and, she said, she's had to close her doors because of the Coronavirus crisis.
A loan, Brass added, would help the firm greatly. "We only hope that they don't make the application process difficult for suffering businesses," she said.
This virus hit her firm during tax season and the loss in revenue has been "great." She said the
firm's insurance services are suffering as well. "Consumers aren't receptive to sales calls due to the pandemic," she said. "We want our customers to know that even though our locations are closed, we are still available to offer some of our services to them via phone or electronically."
The firm can be reached at (833) 834-2383 or visit the website at www.insureitauto.com or www.accountingworx.com.
Erica Holmes, owner of SimJonki Consulting Enterprise in Joliet another African American business, said her business is "maintaining due to the fact we can work remotely. We would prefer to see our clients in person," Holmes said. "The only difference currently is not seeing our clients in person."
Holmes said, like always, she relies heavily on her faith. "God is always in the front of my business. We trust God to get us through," she said.