Will County businesses struggling to get through tough times
By Rex Robinson | 3/25/2020, 7:43 p.m.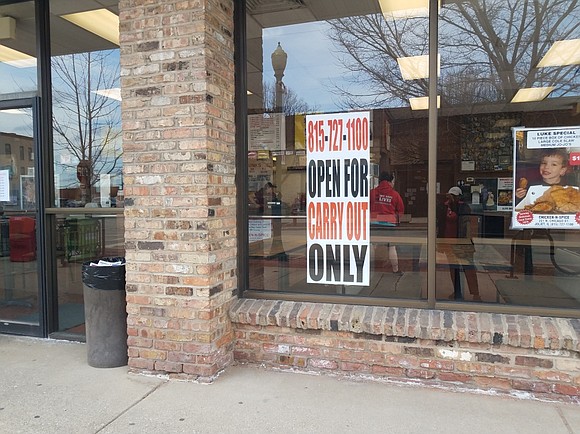 Businesses considered non-essential and bars without kitchen set-ups are likely the ones hurting the most during this time, Paone said. However, he did hear that some of the local breweries were offering curbside pick up for packaged liquor just like the restaurants are doing.
"Now is a really good time to think outside the box and pivot to areas you might not have thought out before," Paone said. "You may see many businesses who reinvent themselves at this time."
The Joliet Chamber along with others, such as the Romeoville Chamber of Commerce, are encouraging everyone to shop local at this time and are offering various incentives for doing so.
"In the end, we ultimately want everyone to keep their doors open," Paone said.
Lenny Criddle, president and CEO of the Romeoville Chamber of Commerce, posted a letter to all his members on the chamber's website. In it, he referenced to Pritzker's mandatory stay-at-home order and how owners of certain non-essential businesses should be working from home.
"To the Chamber and our local communities, trust me all of our businesses are 'essential,'" Criddle said in the letter. "You employ local people, provide tax dollars and provide services and products we need. As owners and managers, your companies are essential to you and your staffs' livelihoods. …
"As you determine your business' response to this order, please let the Romeoville Area Chamber know if you need assistance publicizing this information."
For more information about what some of the Joliet and Romeoville chambers are doing during the Coronavirus crisis, visit their websites. The Romeoville Chamber of Commerce has a resource page with information on the Coronavirus on its website https://www.romeovillechamber.org. The Joliet Chamber Region of Commerce & Industry also has a variety of resources for its members on its website at https://jolietchamber.com.
Kraig Lounsberry, president of the Community Bankers Association, encourages its members to participate in the Illinois State Treasurer's Office loan program. "Partnering with the state treasurer's office will give community banks a powerful new tool to quickly protect small businesses suffering during this crisis," Lounsberry said.
The Illinois State Treasurer's Office can move faster than others because facilitating low-interest loans is one of its core functions. These linked-deposit loans have been a staple for decades. The most widely known linked deposit is Ag Invest, which helps farmers with annual and long‑term loans to be used for operating costs, equipment purchases, livestock purchases, and construction-related expenses. Established in 1983, Ag Invest has provided more than $4 billion in loans.
"In Illinois, we can move more quickly than others because the treasurer's office already has the authority to create these loan programs. These loans can help businesses stay solvent today, when they need the help," said Illinois Sen. Scott Bennett, D-Champaign.
For more about the Illinois Small Business COVID-19 Relief Program, visit illinoistreasurer.gov.