22nd Century Media ceases operations
By Rex Robinson | 3/31/2020, 6:05 p.m.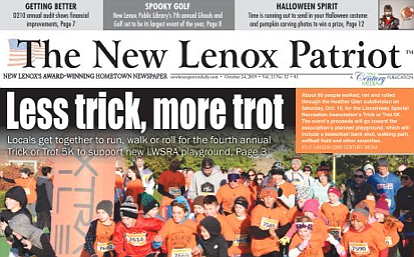 A newspaper company that included a large chain of suburban papers has closed its doors and ceased operations due to an advertising crunch related to the Coronavirus outbreak.
In the Southwest Suburbs, 22nd Century Media operated seven local newspapers in Frankfort, New Lenox, Lockport, Orland Park, Mokena, Tinley Park and Homer Glen as well as others along the Northshore and one in Malibu, Calif.
According to published reports, 22nd Century Media's advertising revenue came mainly from small businesses and many of those have been hit hard as a result of Coronavirus.
Sean Hastings worked as an editor for the The New Lenox Patriot. He posted about the company's demise on his Facebook page.
"Earlier today, we were informed that 22nd Century Media, the parent company of The Patriot and 14 other newspapers, is ceasing operations effective immediately," he wrote. "Myself and many other journalists in our company have lost our jobs."
The Coronavirus, he added, has taken a huge hit on small businesses and 22CM is part of that.
"Being the editor of The Patriot, the newspaper that serves the town I have lived in my entire life, has meant more to me than I can put into words," Hastings wrote. "It was more than a job to me. I was able to be a voice of the town I grew up in and tell countless stories that I will always remember.
"I have had the honor to work alongside many great editors in the SW office, as well as work with a pool of freelancers who worked tirelessly to assist me in getting content in the paper. "
Hastings went on to thank all the people he had met while covering the community, including Mayor Tim Baldermann and the Village of New Lenox, the library staff, park district staff, the NLPD and NLFD, the coaches and players I was able to cover, the countless business owners I have gotten to know, the people VFW and American Legion and just the different people of the community.
"Thank you so much for reading The Patriot the last 13 years and especially the last year with me as the editor. It was an honor to serve the town and it's sad to see it go, but hopefully something comes in the future."