Illinois Treasurer's Note: Helping Small Businesses and their workers during COVID-19
5/13/2020, 12:49 p.m.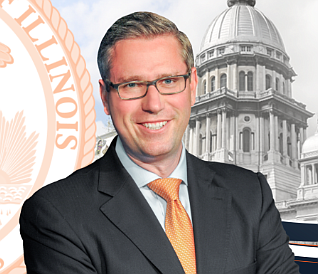 We know people are hurting. We are hearing the stories from our friends and from our families. We are seeing businesses close in our own communities.
The COVID-19 pandemic has created an immense amount of uncertainty and we need all hands on deck to help others now and lay the groundwork for recovery later.
I have designated $500 million to be deposited in community banks and local credit unions throughout our state. In turn, these financial institutions use the money to make low‑interest loans to small businesses in their communities. Supporting the health and well-being of our residents and our economy includes making sure small-business owners stay solvent so their workers can be paid.
We move faster than the federal government because we are not slowed by their partisanship and red tape. We also have 40 years of experience in facilitating these loans, which do not add to our state's budget deficit.
Kraig Lounsberry, president of the Community Bankers Association, said the bridge loan program gives "community banks a powerful new tool to quickly protect small businesses suffering during this crisis."
Republican state Rep. Mike Murphy of Springfield said, "Small business is the backbone of our economy, and now, more than ever, these businesses need to know state government is here to support them and their employees."
Democratic state Sen. Scott Bennett of Champaign said, "These loans can help businesses stay solvent today, when they need the help."
Additionally, we have worked with business advocates such as the Illinois Chamber of Commerce, the Small Business Majority, and the Small Business Advocacy Center to ensure their members are aware of our bridge loan program.
The COVID-19 pandemic will be remembered by every person who lives through it. It already has highlighted the heroic work of our first responders, health care professionals, as well as those who work in our grocery stores, haul our garbage, operate our cities, and make sure our telephones, electric grid, and roads remain operational.
Our loan program will not solve all the challenges our state and country are facing, but that does not stop us from working to be part of the solution. Our loan program will help our small business owners keep society functioning as well.
I am thankful that our team could quickly do our part to help the residents of Illinois.
Michael W. Frerichs
Illinois State Treasurer