Wine of the week: Prosecco DOC mounts international virtual tasting to highlight versatility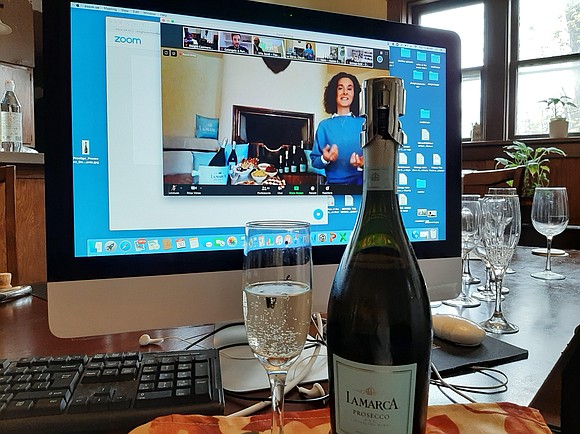 Five producers of Prosecco DOC region mounted a massive video outreach to the media to highlight the versatility of Italy's most popular sparkling wine. Arranged by Colangelo and Partners, who have, for the past ten years been the industry leaders in integrated communication propelling a brand's story across the modern broad media landscape from New York, to Cape Town to Bordeaux. Colangelo and Partners provides an ideal fit for premium, artisan brands seeking to build their businesses in the US and beyond. Samples of the sparkling wines presented were sent in advance to each of the virtual participants of wine media and industry professionals for a hands-on tasting experience.
Colangelo's Luca Venturelli moderated a panel of distinguished producers who participated directly from their headquarters in Italy. Enora Ceola, CEO Freixenet Mionetto USA gave a lively demonstration of how to apply Mionetto "Prestige" Prosecco DOC Treviso-Brut to that ever popular eventide cocktail, the Aperol Spritz. With it bright orange, crimson-tinged color, it resembles the sunset and is often enjoyed at the twilight time at cafes along Venice's famous canals and the canals at the beverage's homeland in the 'little Venice' of Treviso. A simple combination of equal parts Aperol, a spirits-based aperitif created by the same folks that make Campari, Club Soda, and a generous slice of fresh orange is the basic mix. I add a bit of orange flower water or simple syrup and a dash of Triple Sec or Gran Marnier to give it an extra festive kick!
Matteo Bolla, Valdo USA, gave a masterful presentation of the preeminent position of Prosecco DOC in the world market, where Italian sparkling wines are having a dominating effect in the USA due to its superior quality, versatility and value/flavor ratio to price. Elena Schipani, Botegga Prosecco DOC outlined the growing broad appeal in the international spectrum along with Flavio Geretto, from Villa Sandi.
Located within an historic property set amongst the grounds of the historic 17th century Venetian Palazzo Villa Sandi, named after its illustrious Palladian home, Villa Sandi is host to some of Venetto's vineyards. Villa Sandi is not only a defining icon of the historic vineyards, but also a symbol of the perfect synergy between the culture and scenic geography of Treviso. Founded by the Moretti family, to walk on the grounds of Villa Sandi is an opportunity to step back into the annals of a glorious time in the history of Prosecco DOC. Its current head, Giancarlo Moretti Polegato, preserves the legend.
Every tasting should have a crowning sweet moment. This was provided in exceptional fashion by Claudia Manetta, for La Marca, perhaps the world's most popular flagship for Prosecco DOC. Known throughout the world for its singular and signature profile of freshness, lightness and balanced flavors appeal, it was presented in a festive setting. Accompanied by an array of traditional cocktail hour favorites such as Mozzarella balls, Parma ham and basil leaves on a skewer or breadstick, representing the colors of the Italian flag, Caprese salad, and a traditional presentation of olives, salumi and frittata, hers was a flavorful and delightful conclusion.
In this time of severe isolation, this was an exquisite opportunity to reunite with some long-time wine industry friends and learn about some new applications of Prosecco DOC in a virtual experience.
Villa Sandi (SRP $15.00) - @villasandi
La Marca (SRP $14.00) - @lamarcaprosecco
Valdo (SRP $13.00) - @valdo_spumanti
Mionetto (SRP $12.99) - @mionettoproseccousa
Bottega Gold (SRP $29.99) - @bottegagold
Prosecco DOC - @proseccodoc_usa