Bolingbrook nursing home continues to have highest number of COVID-19 cases in Will County
By Rex Robinson | 5/19/2020, 12:27 p.m. | Updated on 5/19/2020, 12:27 p.m.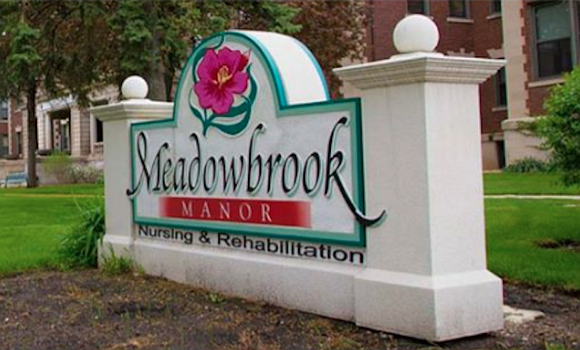 A nursing home in Bolingbrook this past week once again had the most confirmed coronavirus cases than any other in Will County, surpassing another facility in Joliet.
Meadowbrook Manor of Bolingbrook had a total reported outbreak of cases of 184, an increase of 11 from the previous week, and the number of deaths from the virus at the facility remained at 26, the same as it was a week earlier, according to the Illinois Department of Public Health. Meadowbrook, 431 Remington Boulevard, continues to have the most cases of any other longterm care facility in Will County, .
Symphony of Joliet, which a week earlier had the most cases and deaths on all longterm care facilities in the county,reported a total of 130 outbreaks and number of deaths is now at 25 , according to the IDPH.
Each week, the IDPH releases the number of confirmed coronavirus cases and deaths at long-term care facilities throughout each county. Symphony, 306 N. Larkin Ave., initially had the highest number of any other facility in Will County.
Meadow brook Manor's cases only recently started to rapidly increase. The facility had 93 confirmed cases two weeks ago, which was a substantial increase over the previous week's total of 51 cases,, according to the IDPH. Presence Villa Franciscan, in Joliet, had the next highest number of deaths this past week with a total of 58 cases and 12 deaths from the virus, state health department officials said.
After news outlets including The Times Weekly reported of the high number of coronavirus cases and deaths at Symphony of Joliet, Symphony Care Network, parent company of the facility, hired Crisis Communications Chicago, a public relations firm specializing in crisis management.
A Symphony Care Network COVID-19 Task Force now in place is calling for increased testing supplies for long-term care facilities and seeking assistant from the National Guard to test patients to combat spread of the virus.
"We're fortunate to have Gov. Pritzker fighting for resources for all health care providers in Illinois, but our national health care system has failed us. It is not the lack of good caregivers that is costing lives in our nursing facilities, it's the lack of supplies," said Symphony Care Network COVID-19 Task Force co-chair Dr. Alexander Stemer. "I implore local, state and national policymakers to treat nursing facilities as our second front on the war on COVID-19 that deserves the same level of priority as hospital emergency rooms and intensive care units.
"We need any resources we can get, including the National Guard to assist us in conducting tests," Stemer added. "The more we can test the more we can prevent the spread of this virus."
Natalie Bauer Luce, exectuive vice president of Crisis Communication Chicago, said Symphony continues to work under the leadership and guidance of Dr. Stemer and Dr. Levine,
who co-chair Symphony's COVID-19 crisis response task force. "They are continuing to identify the most effective treatments and procedures to treat COVID-19 patients and stop the spread to others, including setting up special isolation units at all Symphony facilities and other infection control measures," she said.
After learning of the high number of confirmed cases and deaths at Symphony, Joliet Mayor Bob O'Dekirk called for the Illinois Department of Public Health to launch an investigation the facility, and some of the family members who had loved ones die while either living or working at the facility have hired attorneys to investigate claims of negligence.
Steven Levin, a partner with Levin & Perconti, said his firm is representing some of those family members. The firm has previously had clients who have filed lawsuits against Symphony in the past for negligence, according to Levin.
"We are currently representing a number of family members of residents at the Symphony of Joliet nursing home," Levin said. "We're receiving a number of calls directly from residents families."
Levin and his staff are looking into past records regarding staffing, supplies, overall compliance with nursing home regulations and particularly compliance with infection control procedures.
"There are many homes, and we believe Joliet may be one of them, that habitually operate poorly staffed, under supplied without solid infection controlled procedures," Levin said. "So, if you take a facility that is already stressed giving normal everyday care that doesn't have rigorous infection control polices and then you add to that a tragedy like the coronavirus, you have a double, triple tragedy in the making."
These and many other issues are what Levin and his staff will be investigating before filing anything in court, he said.
For more information about coronavirus cases at longterm care facilities in Will County and throughout Illinois, visit https://www.dph.illinois.gov/covid19/long-term-care-facility-outbreaks-covid-19