Historical Museum officials to reopen Joliet Prison for tours
By Rex Robinson | 5/20/2020, 12:41 p.m.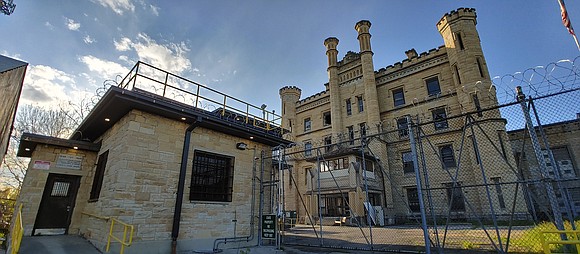 Anticipating updated public health guidelines via Gov. J.B. Pritzker's Restore Illinois Plan, Joliet Area Historical Museum officials plan to reopen the Old Joliet Prison Historic Site at 9 a.m. June 1st. The prison, they said, will be open seven days per week and offer self-guided tours for the first time since its 2018 reopening.
Executive Director Greg Peerbolte said with nationwide shelter-in-place protocols giving Americans a new perspective on confinement, it is an opportune time to consider the experience of prisoners confined at the Old Joliet Prison since 1858.
"Our hope, as an educational non-profit organization which seeks to interpret the history of the Joliet community through tangible means, visitors to the Old Joliet Prison will leave with a greater understanding of the Old Joliet Prison's role in the American institution of incarceration and empathy for its inhabitants and employees, as well as its great historical, social and economic importance to the Joliet region," Peerbolte said.
Guests will be allowed inside the walls to explore the prison's massive 16-acre grounds, and while tours will be limited to outdoor areas only, there will be plenty to see. Through a grant-funded Tourism Attraction Program by the Illinois Office of Tourism, the Museum will be debuting nearly two dozen interpretive signs with a variety of historical photos of the prison. Adding a modern twist to the experience, the Museum plans to offer sophisticated virtual 3D tours of selected building interiors courtesy of Dietrich Zeigler/Elements of Media. Guests can utilize QR codes placed throughout the tour route which will provide immediate virtual access to the structures via smartphone. The Old Joliet Prison's popular thematic tours will return as well, which include a guided history tour, guard tour, haunted history tour, and photography sessions. Peerbolte noted that the capacity will initially be limited to up to nine guests per group and that all staff and guests will be expected to adhere to state PPE and social distancing guidelines.
Admission to the Prison begins at $20 per adult, with member, child and resident discounts. The proceeds will benefit the continued work of the Joliet Area Historical Museum to further stabilize and secure the Old Joliet Prison. Peerbolte said the Museum's current financial position as a result of the pandemic is unprecedented.
"The reality of the financial impact of COVID-19 is that many cultural arts institutions and non-profits like our Museum have been doubly impacted. We've faced not only the loss of revenue from closing our doors, but cuts in operational support from governmental entities who struggle with the financial impact of the pandemic alongside us," he said. "As an organization, we have challenged ourselves to rethink activities to generate vital revenue and adhere to public health guidelines which keep our guests safe, while at the same time, maintaining our intellectual credibility and providing a memorable experience."
Peerbolte said the Museum intends to announce updated information on Prison tours and special events as State public health benchmarks allow.
• Self-Guided Tours: $20 per adult; museum members and Joliet residents, $15 per adult, $10 per child ages 3-12, Children under 3 free (reservation required). Strict limit of 10 individuals per appointment window (each quarter hour), tours begins at 9:00 a.m. and end at 5:00 p.m. Tour duration will be limited to approximately 90 minutes to assist with public health guidelines.
• Guided History Tours (Led by Certified Museum Guide): $30 per person (no discounts) Monday, Thursday, Saturday, Sunday, 11:00 a.m. & 1:00 p.m. Groups limited to nine participants.  
 
• Guard Tours (Led by Former Prison Employees): $40 per person (no discounts), alternating Saturdays and Sundays, 9:00 a.m. Groups limited to eight.
 
• Haunted History Tours (True stories of some of the prison's most notorious residents): $35 (no discounts), every Friday night, 6:00 p.m. & 8:00 p.m. Groups limited to eight.
 
• Photography Tours (Amateur or professional photographers, bring tripods and wander the grounds): $50 per person, alternating Sundays, four hour window, no models.
To assist with public health mandates, all tickets currently are available only by reservation with prepayment, at www.jolietmuseum.org or www.jolietprison.org.  All guests will be required to sign a digital waiver before entering. Guests will enter the site via contactless check-in at the Prison's West Gate along by accessing Hills Avenue.