Outdoor dining, with restrictions, will soon be allowed throughout Illinois
By Rex Robinson | 5/20/2020, 5:44 p.m.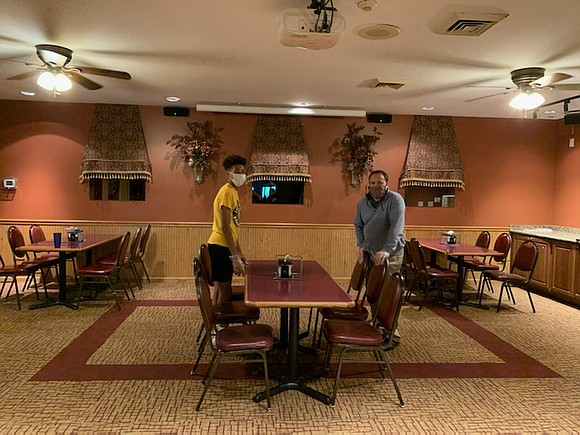 Restaurants and bars throughout Will County and the state will be allowed to provide outdoor dining to customers on May 29 under Phase 3 of Gov. J.B. Pritzker's Restore Illinois Plan.
Pritzker announced on Wednesday that he would be moving the state to the next phase and allow for outdoor dining at restaurants with restrictions such as keeping tables six feet apart and requiring workers to wear face masks.
This came as great news to Joliet Mayor Bob O'Dekirk who just last week submitted a plan to Pritzker's office to allow restaurants the option of allowing outdoor dining with the same restrictions. Pritzker's plan, which he referred to as Phase 3 with added modifications for allowing the outdoor dining, is very similar to what O'Dekirk submitted to the governor.
"I'm thankful," O'Dekirk said after hearing of Pritzker's announcement. "I think it's a great example of government working together to get to the right answer. We believe this is a responsible plan and is within the government's guidelines and we're grateful that it will allow these business to start to get back on their feet."
Pritzker said his decision to move the state to the next phase by May 29 came from epidemiologists reporting statistics showing that the spread of COVID-19 in Illinois was starting to slow and that the positivity rate, something Pritzker said needed to be below 20 for at least 14 days before restrictions could be eased, has been remained at 10.3 average for the past seven day.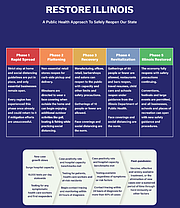 While optimistic, Pritzker expressed caution in moving too fast."We are by no means out of the woods," Pritzker said. "But, directionally things are getting better."
Also with the move to Phase 3 of the Restore Illinois Plan, gatherings of 10 or fewer will be allowed, indoor and outdoor tennis will be permitted, as well as foursomes for golf and both camping and boating of 10 or fewer. Face masks, however, will be still be required in public places, he added.
That Joliet plan submitted to Pritzker was authored by the now former Joliet Corporation Counsel Marty Shanahan. O'Dekirk expressed dismay over Shanahan's departure from City Hall and said he could not discuss it at this time, and added only that it was "absurd."
"I want to give credit to Marty," O'Dekirk said. "He was directly responsible for putting this together and making sure we were on solid legal group in terms of the guidelines set in the Restore Illinois Plan."
Pritzker acknowledged that restaurants and bars have been hit hard by the coronavirus pandemic and the stay-at-home order. "Tragically they were some of first and hardest hit during this pandemic," Pritzker said. "They represent an industry that employs hundreds of thousands of people in every corner of our state."
Bill Dimitroulas owns three restaurants in Joliet and only one - Hamburgerseria, 1015 Essington Road, has remained open while the stay-at-home order has been in place. His other two restaurants - Cut 158 Chophouse, a high-end steak house, 158 N. Chicago St., and Cork Wine Bar, 2302 Essington Road - have remained closed.