Will County Clerk prepares for general election
Clerk lays out options for voters should shelter orders be in place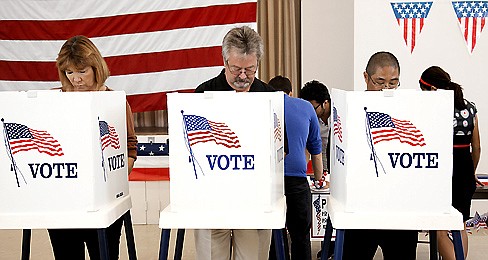 While it would seem the November election is still a ways off, in reality it's just over five months away. With the country in the midst of a pandemic and no one really knowing how much back to normal things will be come Election Day, clerks offices around the country are preparing for different scenarios.
The Will County Clerk's Office is no exception and has been taking the necessary steps to ensure voters will have an opportunity to cast their ballots in a safe manner come November.
"The County Clerk's Office began preparing for the General Election the minute we closed the book on the Primary. Our staff has been performing essential work throughout the pandemic, taking every recommended precaution to protect their health and reduce potential exposure to COVID-19," Will County Clerk Lauren Staley Ferry said.
The Clerk's Office, she added, is taking every step possible to protect the health of voters and Election Judges in November. The Office has entered into a contract to provide large, stand-alone hand-sanitizing stations for every one of its 245 Polling Places to be used by voters and Election Judges. "We also are securing smaller bottles of hand sanitizer specifically for Election Judges as well as protective face coverings and disinfectant wipes," Ferry said. "Our goal is to minimize the public health risk in Polling Places as much as possible."
In response to the pandemic, the Clerk's Office has remained closed to the public except in limited circumstances for other essential services, such as the issuance of marriage licenses. However, meetings are held daily to discuss other steps to take to best serve voters in the General Election, Ferry said.
Whether shelter requirements are in place or not in November, voters should know there are many ways for them to cast their ballots. "Obviously, voters who are concerned about visiting public venues like Polling Places can take advantage of Vote By Mail," she said. "The COVID-19 public health crisis has generated tremendous interest in Vote By Mail, prompting our office to begin preparing to fulfill as many as 125,000 Vote By Mail Ballot requests in the General Election."
This required the purchase of additional equipment to double the ability of the Office to print, assemble, mail and process Vote By Mail packets. Citizens can begin filling out applications for Vote By Mail Ballots online at thewillcountyclerk.com starting on Aug. 5, or they can contact the clerk's office by phone after that date and the clerk's office will mail them applications. All ballots must be postmarked by Election Day to be counted.
"Vote By Mail is secure and convenient and enables voters to complete their ballots in the privacy of their homes," Ferry said.
There are other options as well. Starting on Sept. 24, voters can visit the County Clerk's Office in downtown Joliet for early voting. They can also visit one of 25 other Early Voting locations throughout Will County starting on Oct. 19. And, of course, voters can cast their ballots at Polling Places on Election Day.