Wine of the week: Sicily's top winemakers online showcase in time for Memorial Day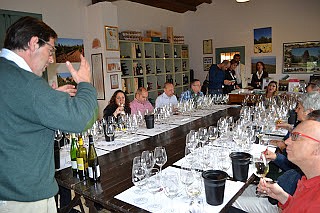 Sicily is one of the most beautiful locales in all of Italy. The region has been declared a UNESCO protectorate and with its volcanic mountains, lush valleys and dramatic shorelines, it has some of the richest soil to create beautiful wines.
The world pandemic has forced one of the seminal events of the wine-producing year online. Sicilia en Primeur, the unveiling of Sicily's new wines to the world is normally presented with a round of winery tours, tastings and seminars and days and nights of gustatory delights in around the towering mountains and soaring cathedrals that dot this historic region. Not to be undone by the COVID 19 pandemic, the Consortium DOC Sicilia carried forth with an exchange of information on the scents, flavors and upcoming projects in this altered scenario.
Featured were some of the guiding lights of the wine industry; Jose Rallo, president of the Consortium and owner of the highly successful Donnafugata winery, along with members of the Assovini board, Mariangela Cambria, Lilly Fazio, Michele Faro, Francesco Ferreri, Laurent de La Gatinals and Alberto Tasca, gave an update on important developments in the region.
The 2019 harvest was one of the most successful in history. According to Allesio Planeta, president of the award-winning Planeta winery, "Sicily has the biggest bio-vineyard of Italy. It also has a nature and environment suited for sustainability like no other territory.
"The time has come for us to put the bell tower of sustainability at the center of the village! It is necessary to make consumers aware of the extraordinary patrimony and the enormous competitive advantage we have in being able to make wine in this big island in the middle of the Mediterranean Sea.
Tasting Sicilian wine is the take a walk back in time to the earliest days of winemaking. It is also an opportunity to raise a glass to the future of the wine industry in a world and an industry where tradition blends seamlessly with modern methodologies of sustainability and biodynamic practices.
Sicilian wines are readily available at your local wine shop and larger purveyors such as Binny's and Whole Foods. Give them a try at your earliest opportunity. There's no better time to experience the blazing sun of Sicily and the Mediterranean lifestyle than now.
As Allesio Planeta concluded his online remarks, "It is about us winemakers and our art. I take this chance to thank you from the bottom of my heart, as if you were here in Sicily, under the bright blue sky of Menfi. Thank you and "a presto!"