Italian Wine Fair Week-Online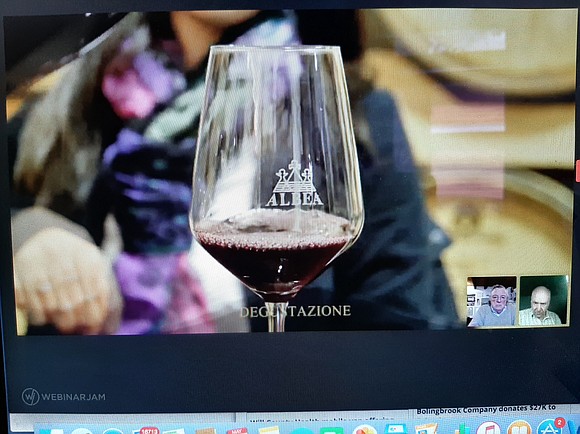 Italian Wine Week is that country's biggest showcase in the United States to promote Italian wines in America. Each year, hundreds of producers descend on US soil for two days of tastings, seminars and food demonstrations to promote the best that Italy has to offer. The event attracted restaurant owners, sommeliers, distributors, merchants, journalists and other members of the wine, food and hospitality trade to experience the wines of Italy and hear first hand from the industry leaders who make them.
As you know, Italy was devastated by the COVID crisis, but it is swiftly returning to some semblance of normalcy.
In preserving its worldwide preeminence in the wine world, Italian Wine Week went live on the Internet May 26 with Italian Wine Week.
Live interviews with wine producers featured videos of their wineries and gave online participants to ask questions in the chat room. Seminars included The Surprising Terroirs and Wine of Italy, featuring Richard Baudains. The session shed light on the reasons that Italian wines taste like no others. Italian wines derive their unique flavor from the various soils upon which the vineyards. Italian vineyards are planted on rock; limestone, volcanic ash, clay, sand or a mixture thereof. That's what gives them their special flavor. Some wines, such as wines from the newly designated winemaking region near Pisa, are planted in soil that derives from what was once the sea. One can literally see the remnants of centuries-old seashells. The wine derives its salt-infused flavor from this ancient terroir. The wines also have a floral note from the many wildflowers and herbs that dot the landscape. The wines are fresh and delightful.
Additional seminars explored the international grape varieties from the different areas of Friuli Giulia with legendary winemaker Matteo Belleto. Italy has hundreds of native wine grape varieties, but it also has a 150-year history of planting international varieties such as Sauvignon, Pinot Grigio, Chardonnay, Cabernet, Pinot Noir and even Merlot, which is normally associated with French wine. Italian terroir and the combined usage of both traditional and modern winemaking techniques give Italian wines their unique expression.
New trends in Italian wines were also discussed. For example, white wines and blush wines are now all the rage. More than 50% of Italian wine has now turned to white grape varietals and many red wine grapes have been used in creating an entirely new wave of 'blush' or pink wines. These wines are especially versatile and go well with a variety of foods, especially the new style of lighter, spicier and more internationally varied cuisine.
Italian winemakers are making dramatic changes in the way they present their wines. Not only are there new and more varied flavors, the labels of the wines themselves are taking on a new look, showing flowers of different colors, representing the flora of the land, birds and other characteristics of the local terroir.
Italy is opening again and the new Italian wines are here in the U.S. at your local wine merchant now. Plans are underway to hold the International Wine Touring Conference in Friuli Venezia Giulia, Italy, according to Matteo Bellotto, one of the principal organizers. Much of the conference will be held in the vineyards, which will allow for social distancing. The conference is planned for Oct. 27 and 28, 2020. For more information on Italian wines and Italian Wine Week, visit, winepleasures.com.