Area hospitals gear up for rising COVID cases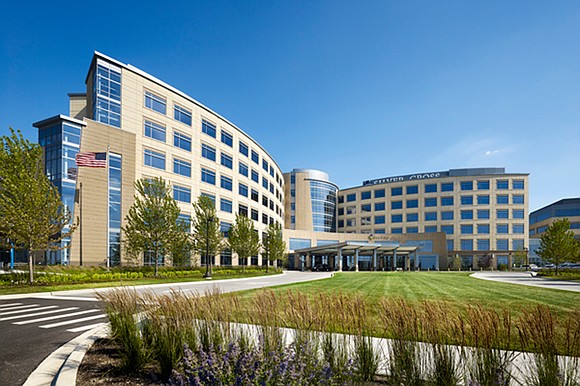 As a second wave of the Coronavirus pandemic sweeps across the country, Will County has seen a substantial rise in COVID cases as well.
The Illinois Department of Public Health has reported 20,657 new COVID cases for Will County and 445 deaths and on Tuesday the total reported cases jumped by 762 to 21,419, while reported deaths rose by three to 448.
Silver Cross Hospital in New Lenox had 89 COVID-related patients in isolation on Tuesday, with 77 of those positive for COVID-19 and 12 patients under investigation and awaiting results, according to hospital spokeswoman Debra Robbins.
AMITA Health Saint Joseph Medical Center Joliet also is starting to see more patients coming in testing positive for the virus.
"Over the past several weeks, we've seen the number of COVID-19 cases reported not only at our hospital and system, but across the state increase significantly," St. Joe's Chief Medical Officer Dr. Gary Lipinski said. "Today, for example we're treating 40 COVID-19 positive inpatients. This is approaching the numbers we saw with the initial outbreak of the pandemic.
"We've seen the effects of COVID fatigue play out in our community, so we must be more vigilant than ever and rely on safety precautions, including washing your hands, wearing your mask, socially distancing and avoiding large gatherings. If we all do what's needed, we can limit the spread and strain in our community."
The rise in cases in Region 7, which includes both Will and Kankakee counties. recently prompted Gov. J.B. Pritzker to announce COVID mitigations for the region that include no indoor service at bars and restaurants and group meeting limited to 25 people.
Some restaurant and bar owners in Will County defied Pritzker's mitigations, citing concerns that they would not survive another shutdown.
"I am not hearing anything very positive from bar and restaurant owners," Joliet Mayor Bob O'Dekirk said. "There is a lot of confusion among them why their businesses are being targeted. I think, over the summer, the bars or restaurants I visited were being run responsibly. The main concern is how many businesses in Joliet are going to survive this. Most of these bars and restaurants are small businesses that are owned and managed locally."
In New Lenox, at least one restaurant announced his intention to defy Pritzker's mitigations by posting it right on his website. In a statement on the JBD Whitehorse Inn website, the owner said, "while we continue to respect our community, our staff and our families' health and safety, closing our doors is not an option. We will continue to be open for indoor dining, outdoor dining, on our patio, carry out."
While many have criticized or attacked Prtitzker over the mitigation, O'Dekirk said that is not good for the people of Joliet. "I do believe that all elected officials are doing what they believe is correct, even though there are clearly different points of view on how to respond to COVID," O'Dekirk said. "Personally, some of the things I have seen are frustrating. But I believe it would be irresponsible for me to take actions which ultimately may hurt the people of Joliet."
Public health officials, according to Pritzker, are "observing businesses blatantly disregarding mitigation measures, people not social distancing, gathering in large groups, and not using face coverings. Mayors, local law enforcement, state's attorneys, and other community leaders can be influential in ensuring citizens and businesses follow best practices," he said.
In light of the increased number of patients turning up at Silver Cross Hospital with COVID, the hospital implemented visitor restrictions effective Nov. 2 to keep aimed at keeping patients and staff safe.
They are as follows:
· Emergency Department, Procedural Care Unit (surgery) and Labor & Deliver: One visitor is allowed, but it must be the same visitor throughout the episode of care.
· Inpatients: No visitors allowed unless approved for special circumstances such as a pediatric patient, end-of-life situations or patients with special needs.
· Outpatients: No visitors allowed unless the patient needs additional support, such as a pediatric patient, or patients with special needs.
"We continue to stress the importance of wearing facemasks, practicing social distancing and handwashing. We also want to encourage people to seek medical care when they need it," Robbins said.