Local restaurants help make Thanksgiving meals
Restaurant, offer special curbside pick-ups of holiday meals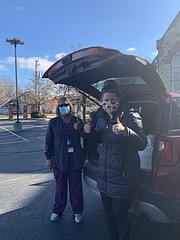 The holiday season is directly around the corner and some restaurants and catering companies are offering carry out packages for Thanksgiving as the Coronavirus pandemic is sure to present challenges for many this year.
Some area caterers and restaurants are working with the Heritage Corridor Convention & Visitors Bureau based in Joliet which is offering the Thanksgiving-To-Go program this year.
"These restaurants offering Thanksgiving packages to save you time in preparing a meal, and at the same time, you're supporting great small businesses and their staffs who have truly been impacted by the loss of sales throughout this pandemic," CVB Marketing Manager Dan Mulka said. "It's truly a win-win situation."
The Jacob Henry Mansion Estate, in Joliet, the Bolingbrook Golf Club, Embers Tap House and The Public Landing Restaurant and Banquet Center, both in Lockport, are some of the restaurants offering holiday meals to go.
Each location has a different take on what they're preparing. Some are preparing ready-to-take-and-eat meals, and some are offering meals that just need to be preheated. The CVB has created a list that is available at the website at www.heritagecorridor.cvb.com.
The Jacob Henry Mansion Estate has put together a full Thanksgiving menu and has "kept it at a price point for all to enjoy," said owner Susan Pritz-Bornhofen. "We also are offering family packs for larger gatherings."
For the Bornhofen and the staff at the Jacob Henry Mansion Estate, the holidays are all about the spirit of giving regardless of a pandemic. "We are suggesting anyone you know of that cannot get out or you would like to drop off to a business or location, we will package for them either individually or family size," she said. "We also suggest that you check in with your family and friends who need a hot meal and a warm smile."
The mansion also will be accepting non-perishable food items for Thanksgiving baskets for the less fortunate that will be delivered to local nonprofit organizations. The program is titled "Fill a Bag, Pack a Pantry." Customers can drop off items when they do their curbside pick-ups for meals, according to Bornhofen.
"We are very grateful and thankful for all of the support from our fantastic community," she said. "We are and will continue to offer the curbside lunches and dinners on Wednesday for the remainder of the year.
"This has been a wonderful way to still stay in touch and see the smiles and send all of our air hugs to our many friends and family who have kept us in their hearts. We cannot begin to say thank-you enough... there are not enough adequate words to express our gratitude."
The family, she added, has made the decision to pivot many times and continue to do what is right to maintain the safety of its guests. "The weekly curbside has kept the four generations of our family working together throughout the pandemic," Bornhofen said.
Every year the Bolingbrook Golf Club hosts a Thanksgiving Buffet that feeds more than 800 people. "This year, things are quite different. But what hasn't changed is being able to have a smaller intimate family gathering and celebration what we are thankful for," said Jill Maldonado, director of sales for the club at 2001 Rodeo Drive.
"Food and happiness around your kitchen table as a family is still what the holiday is all about and what is so needed during these difficult times.
The Bolingbrook Golf Club's meal package, Maldonado added, offers all the traditional items, prepared by the club's executive chef.
Bolingbrook Golf Club, like many businesses, had to rethink how they were doing things as a result of the pandemic. Some of the different things the club has been offering during the pandemic include micro weddings, Supper Clubs for small groups of six, and expanded outdoor dining areas as well as Dinner with the Chef. "These have all been successful throughout the pandemic," Madonado said.
The golf club also offers take out service and catering throughout the year through its Nest Bar and Grill, and a drive-by Santa event is planned for Dec. 13.
Public Landing Restaurant and Banquet Center's dining room and loft will be closed for Thanksgiving.
This is from the Public Landing's website:
"Due to all that is happening, we will not be open and offering Thanksgiving dinner this year. However, we are offering a wonderful catering package."
The Public Landing is offering the "Gobbler," which is a complete package that serves up to five guests. Orders must be placed and paid by Nov. 19, according to the website. Visit the website at www.publiclandingrestaurant.com/thanksgiving.
Most of the restaurants and caterers are already offering curb-side pick-up for meals and plan to offer catering options throughout the holiday season.
Mulka said the best way to support these establishments is to purchase meals to go from them whether it's Thanksgiving, a Friday night or a Tuesday lunch back home or at the office and add gratuity if you can.
"Wear a mask when you go to pick up your meal," Mulka said. "It may not seem like much at all, but truly – it's how we can keep everything to as close as normal as possible for everyone. We want our favorite places to be in business when we are long past the pandemic."
Some grocery stores also offer catering packages for the holidays. The Jewel store on 135th Street in Plainfield is currently taking orders for Thanksgiving and trimmings like stuffing and mashed potatoes.
"You can order turkeys until we run out," said Crystal Porres, deli manager. "Most people tend to order the week of Thanksgiving or the last minute."
Whatever turkeys are left when the store closes on Thanksgiving Day, the store donates to the Plainfield Interfaith Food Pantry, Pores added. On a good Thanksgiving week, she estimates between 30 and 50 orders are placed. She encourages people to place the order by visiting the store or calling (815) 577-2605.