Wayne's Words: Honor our Veterans everyday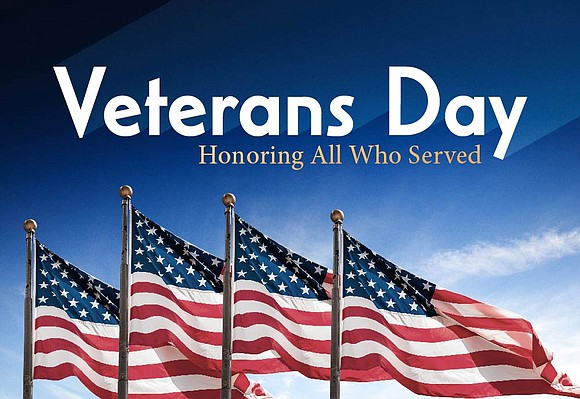 This past Wednesday was Veterans Day. In past years there were many public celebrations in and around the Joliet and Will County area honoring veterans and their military service. That didn't happen this year but you can always thank a vet for their service anytime of the year.
Most vets don't give a lot of thought to their military service once they return to civilian life. The veteran population has been declining in recent years. According to the U.S. Department of Veterans Affairs the vet population is about 19.5 million. The Gulf War era makes up about 50 percent of all war veterans. The World War II vets now total less than 325,000. More than 50 percent of all veterans are age 65 or older. The veteran population is expected to decrease by 30 percent over the next 20 years or so.
While many pay special attention to Vets on Veterans Day there are many organizations that provide service to vets year-round. At the top of the list is the VA. They serve more than nine million vets a year, mostly by providing healthcare through roughly more than 1,074 outpatient sites and 170 VA Medical Centers. The local VA outpatient site is located where the former Silver Cross Hospital once stood.
Two of many organizations that serve as resources for veterans are located right here in Will County.
The Will County Veterans Assistance Commission was organized about 30 years ago to serve the needs of local veterans. The Will County VAC is almost a one stop shop to help veterans access their benefits. If they lack a resource the Vet needs, they will know where to find it. The VAC provides advocacy service to veterans and their families in applying to the proper local, state or Federal agencies to procure benefits. If you know a veteran who might benefit from contacting the VAC, the phone number is 815-740-8389 or online through the Will County website at https://www.willcountyillinois.com/County-Offices/Special-Services/Veterans-Assistance-Commission.
Another organization serving veterans in the area is Allen Force. They recently located to new office space in downtown Plainfield. Allen Force was started in 2012 to meet veteran needs not yet being met in the community. One program the Allen Force organization offers provides veterans a network of all-terrain chairs for free, enabling qualified vets the opportunity to participate in outdoor and adventure recreation. The mobility assistance is also available to veterans who may need the help to attend gravesite burials or even getting around outdoor events that they could not otherwise attend.
SheForce is another program offered by Allen Force. Its mission is to empower women impacted by their military service, with the tools and confidence needed to reconnect and honor themselves as women. Allen Force offers several other programs and events designed to achieve its goal of promoting a healthy and successful lifestyle for all veterans and their loved ones. You can visit their website at www.allenforce.org.
Veterans Day is a year-round encounter for the many organizations committed to helping veterans.
Veterans Day can be year-round for all of us. There are several ways to show appreciation for a veteran's service. Talk to a veteran you know. Ask them what they did in the military. It is also important to respect their silence regarding their military service if they choose to do so. Let your children and grandchildren know about veterans and their service. Don't be shy about thanking a veteran for their service.
One last thing… This will be the fourth Veterans Day that Joliet's nine flag pavilions are properly lit and maintained. Joliet's fire department personnel have the responsibility for seeing that the flags are flown, lowered to half-staff when appropriate and replaced when they are worn and tattered. Thank you to the Joliet Fire Department personnel. Stay tuned…
Contact Wayne at wayneswords@thetimesweekly.com