Joliet council green lights MorningStar's expansion plans
Madhu Mayer | 11/19/2020, 8:26 a.m.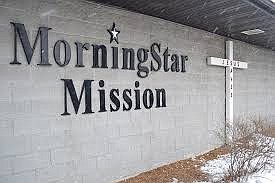 While trying to live without a roof over your head is difficult for anyone, and it is especially true now with a pandemic spreading like wildfire, it's likely even more difficult for a woman escaping an abusive home.
Heeding the ongoing needs of MorningStar Mission Ministries, the Joliet City Council will grant the agency's request for an amendment to the special use permit to expand services at their facility by providing overnight emergency crisis shelter for women and children in addition to the transitional housing shelter already provided to men, women and children. The Joliet agency had been operating the overnight shelter based on a temporary permit until Tuesday night when the protocol became permanent.
MorningStar Mission Ministries provides resources to homeless women, children and families so they can get restart their lives. The East Side Café at MorningStar also serves three meals six days a week and two meals on Sundays to the homeless and near homeless guests in the Joliet community.
In January 2005, the Joliet City Council granted a special use permit to rehab a vacant fire station into MorningStar Mission chapel and administrative offices, and to allow construction of a 24-room shelter for intact families and for single mothers with children a 360-368 E. Washington St.
The amendment stipulates additional mandatory conditions approved in 2005 will remain intact. It requires that occupancies at the Family Recovery Center cannot exceed 12 consecutive months, and those who live there are limited to no more than 24 families and no more than three people per room. Each room must be at least 336 square feet in size. Also, everyone at the Family Recovery Center must undergo intake screening to ensure a safe housing environment, and consent to a criminal background check coordinated with the Joliet Police Department.
Sandra Perzee, executive director of the agency, said "the coronavirus crisis has made it even more important to have clean facilities for a healthy population inside MorningStar Mission Ministries."
"Unlike most coronavirus-inspired closings, we will remain open and vigilant to provide services to guests in our programs and our day visitors," she said. "We will continue to serve three meals a day, seven days a week."