Wolves Women's Cross Country makes history at national meet
11/23/2020, 9:11 p.m.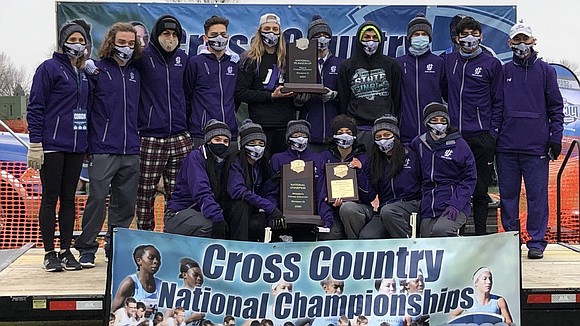 The Joliet Junior College cross-country teams made history at the National Junior College Athletic Association's Division III National Championship Meet in Fort Dodge, Iowa on Nov. 14.
The women's team scored 41 points to win the school's first-ever women's team national championship in any sport, and Tiffany Lehmannwon the individual title covering the 5,000-meter course in 20:10 on a cold and windy day. It is the first individual national title for a JJC student-athlete since 1991 when Jennifer Karges won a tennis title.
This was Lehmann's first year of running cross-country at any level. Previously, she played soccer for the Wolves, competing in 24 games over two seasons.
In addition, the Wolves had three other All-Americans as Yesenia Suarez (Joliet West) placed fifth, Ivet Rosiles (Joliet Central) finished 12th and Erica Nurczyk (Joliet West) crossed the finish line 15th.
"The feeling is unbelievable," said Wolves Head Coach Jeff DeGraw. "It's hard to win a national title in any sport, and especially hard when you have been ranked number one all season long because you have that added pressure. But all weekend, our women's team was so relaxed. They had fun with this and they came through on the biggest stage."
"Tiffany had never run a cross country race in her life before this season and what she did all season and winning the individual title is truly amazing," added DeGraw.
Lehmann and Kellogg Community College's Emma Berning ran side-by-side until the two-mile mark when Lehmann gave a surge during a downhill portion of the course to put some distance between her and Berning, which secured a 14-second victory.
"I knew she (Berning) was right with me, but I also knew I had to keep running hard," said Lehmann. "But right at the two-mile mark was a downhill and coach told me to go really hard on the downhill and that made the difference. I just kept going as hard as I could the last mile."
Lehmann also took home NJCAA DIII Runner of the Year and U.S. Track & Field and Cross Country Coaches Association Central Region Women's Athlete of the Year awards.
Coach DeGraw was awarded the NJCAA DIII Women's Coach of the Meet and the USTFCCCA Central Region Women's Coach of the Year honors.
"Those awards are a by-product of how hard this team worked, and it also goes to our assistant coach Britney Beall," said DeGraw. "She did such a great job of working with these women every day in practice."
On the men's side, the Wolves finished in the runner-up spot scoring 40 points behind Mineral Area Community College's 18 points. It was the best team finish for the JJC men's program in school history.
Julian Rosenbach (Joliet West) led the Wolves with a fifth-place finish covering the 8,000-meter course in 27:58. Nate Chaidez (Minooka) finished eighth, Luke Talbot (Minooka) 11th and Nick Chaidez (Minooka) 12th as all received All-American awards.
"The men ran a very smart race and all ran their best or very close to their best times of the season, which is what you want to do at the national meet," explained DeGraw. "What is amazing about the men's race is that this was actually the first race that the entire team ran healthy. Luke Talbot and Ryan Zawacki (LW-East), our fifth runner, battled injuries all season, yet did the work necessary and came through when it mattered and that was huge."
The Wolves were also awarded the NJCAA DIII Gary Moore Award for Best Overall Program, which honors the college with the best combined men's and women's programs.
"I cannot begin to express how proud I am of our cross country teams, especially during this season of caution," said JJC Director of AthleticsGregg Braun. "Since Aug. 1, our student-athletes have followed the guidelines and procedures set forth by Coach DeGraw and Coach Beall to remain safe and healthy while competing in a full season of meets."
"In addition, every student-athlete on both of these rosters is from our district," added Braun. "It is amazing to see what our local athletes can do at the collegiate level, and I am so proud of our cross country program and their accomplishments."