Collaboration of local churches and organizations spread some Thanksgiving cheer
11/24/2020, 6 a.m.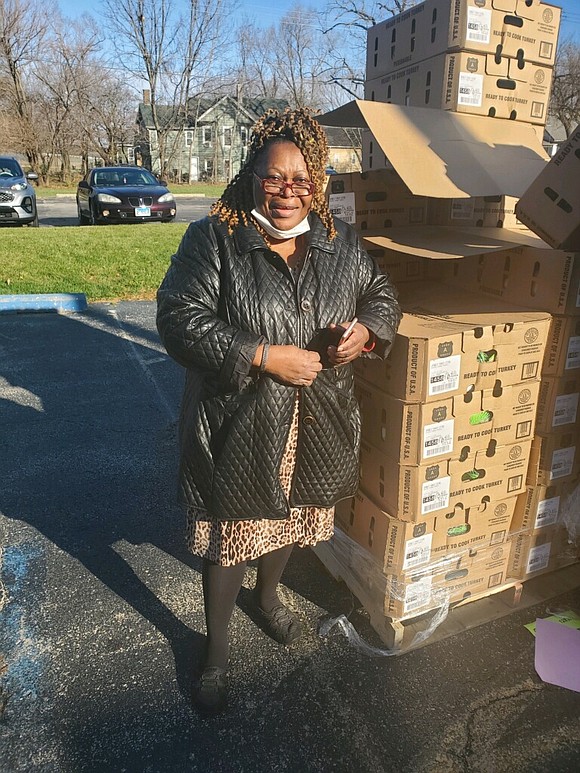 As the coronavirus continues to heighten this season, individuals, families, the unemployed, homelessness and local businesses around the world are suffering from its devastating effects. For this reason Prophetess Ora Holloway of Igniting The Fire Prayer Center, Suzette Williams of Rose of Share-N Outreach Ministry partnered with Pastor Tyrone Hinton of Perfecting Worship Center, Pastor Bonita Kimbrough of God's Gathering Place, Pastor De'Andre Robinson of New Beginnings Christ Church of Faith, Councilman Terry Morris of Minor Funeral Home and a host of other sponsors to spread a little holiday cheer by giving away 150 Thanksgiving Baskets, which included a turkeys to families in need within the Joliet community on Monday, November 16, 2020.
The drive thru event and distribution was held in the parking lot of Perfecting Worship Center, 701 Henderson Ave. Joliet, Illinois. There was a two-lane drive thru with over one hundred cars ready to pick up their basket, as prayer warriors and volunteers offered warm smiles, a word of hope, and a prayer to each individual who drove through the line.
According to Prophetess Holloway, "the event turned out great as people expressed how thankful they were for the help. "And that's what it's all about, helping your brother or sister in times of need," she said.
"This is only a small gesture of love given to help lighten families burden during this Thanksgiving season," Holloway said.
The organizers said, "We thank all our partners, churches, organizations, businesses, sponsors and volunteers, for bringing a little hope during these trying times. Your giving gifts of love will not be forgotten by God. "I am the Lord, which exercise loving kindness," Jeremiah 9:24."
CHURCH AND BUSINESSES SPONSORS
Minister Mary White of Paraclete Ministries, Refuge Mission, The Times Weekly Newspaper.
INDIVIDUALS SPONSORS
Bell, Annie Lockhart, Rhonda Range
Cartwright, James McElwee, Bea
Chandler, Latasha Powell, Joseph
Doll Refuge Mission
Evans, Stephanie Robinson, Deandre
Evan. Jordan Ministry Rosenthal, Camela
Hinton, Jesse Rowe, Linda Gatson
Hinton, Tyrone Scales, Grace

Johnson, Johnny Streeters, Kamilia
Jordan, Larrie Vernon
Jennifer Ward, Rodrick
Kiadis, Sonia Whitted, Robin
Ayala, Xlavia Williams, Suzette