Wayne's Words: Joliet council is business as usual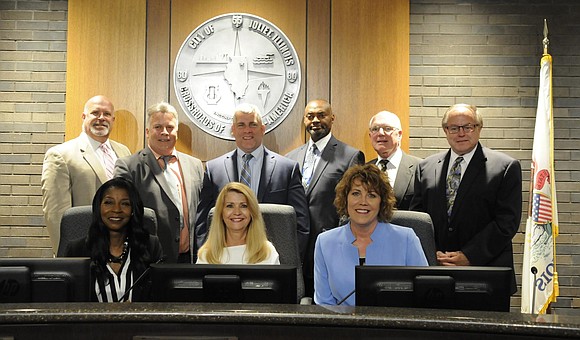 Thanksgiving is the beginning of the holiday season. The Thanksgiving Day holiday is the most American of our holidays but the annual tradition of gathering friends and family for a feast may take a hit this year for many of us. The pandemic will alter many plans for indoor gatherings, but the meaning of the holiday should not be lost because of COVD-19. The Thanksgiving Day holiday should begin by being thankful for what we have, but, more importantly, for what we have been able to share with others. It's also a time to reminisce about past Thanksgivings and the meaning of the holiday. Thus, reminiscing about some past Thanksgiving occurrences seems appropriate for this column.
It's been just over four years ago that Jim McFarland, then Councilman-at-Large, resigned his seat on the City Council. The resignation followed several months of turmoil his actions created both publicly and privately. Brooke Hernandez Brewer was appointed as his replacement for the remaining six months of the term by Mayor Bob O'Dekirk. She ran unsuccessfully for the full term in the 2017 Consolidated Election. She lost the seat to Don Dickinson who resigned the seat this last Monday. It's not known who will be appointed to replace him at this time, but Mayor O'Dekirk has committed to appointing a successor prior to the Council meeting on December 1.

Current Interim City Manager Jim Hock was hired in November of 2013 at a salary of $185,000 plus some generous benefits. He retired from the position in April of 2017. He came back in August of this year at a salary of $215,000. That was one City Manager and two interim City Managers ago. Still no word on who will be the next Joliet City Manager after Hock leaves. Mayor O'Dekirk told me that hiring a new City Manager is a priority the Council wants to complete by the first of the year. Good luck on that one!
Another Thanksgiving occurrence in Joliet seems like it happened yesterday. It appeared, almost to the day, 12 months ago on November 19, 2019. I wrote a summary of my experience as a Joliet Environmental Commission member (the water commission). It was concluded by the whole Commission that Lake Michigan was Joliet's best option for our future water source because it met the three criteria challenges of sustainability, quality and cost. It was further concluded that there were two methods to bring Lake Michigan water to Joliet. One way was to buy the water from Chicago and the other was to build our own pipeline from Hammond, Indiana to Joliet. The increased cost to the consumer was approximately measured and disclosed. Although many particulars had to be determined, it appeared the only decision to be made was from where. Chicago or Hammond. My personal conclusion was Chicago because the minor difference in cost to the customers in Joliet was worth the opportunity for greater control. The difference in the estimated cost was not considered to be substantial.
So, what happened? That was 12 months ago. In the meantime, we have been paying consultants, having special City Council meetings, and advising the public on more specific costs and logistics so that the City Council could make a final decision by January of next year. The following paragraph is from Wayne's Words column 12 months ago:
"One of the biggest challenges in choosing Lake Michigan may be the initial cost. There are only two choices presently being considered for the Lake. One is buying water directly from the City of Chicago. It will cost close to $500 million for the infrastructure improvements necessary according to the presentation made in October by the City of Chicago, although we will own that part of the project and be responsible for its maintenance. However, Chicago will control the cost of the water. That may not be a deterrent over the next decade or two but what about 40-50 years from now when many more areas will be looking for water resources? What happens if Chicago sells or leases its water utility? It may not be on the table today but who knows what will be necessary to pay for the monstrous budget deficit and the huge pension debt Chicago and Illinois faces."
Remember, this is a decision that will impact Joliet for the next 75 to 100 years. Regardless of what may be agreed to in the next 30 days may not be viable 25 or 30 years from now. Even if it's in writing. Tread softly Joliet City Council.
One last thing…here are America's favorite Thanksgiving Day dishes. Turkey (39%), stuffing (23%), pumpkin pie (12%), mashed potatoes (9%), and cranberries (3%). The beverage of choice with the meal is wine, preferred by 63% over beer at 19%. Two things on the day's traditional menu were not a part of the original Thanksgiving feast in 1621: cranberries and mashed potatoes. Cranberries were considered too bitter for consumption and were used instead as a dye and also as a healing agent. Potatoes were not introduced into North America until the early 1700's. The modern potato masher wasn't patented until 1847.
This time of year, is about family and friends and peace on earth for all people. The peace part isn't working out so well if indeed it ever has. Regardless of that sentiment, take time with family and friends as best you can and enjoy the season. Happy Thanksgiving and stay tuned and stay safe…
Comments welcomed at wayneswords@thetimesweekly.com