Troy 30-C adds preschool classrooms
11/30/2020, 6:35 p.m.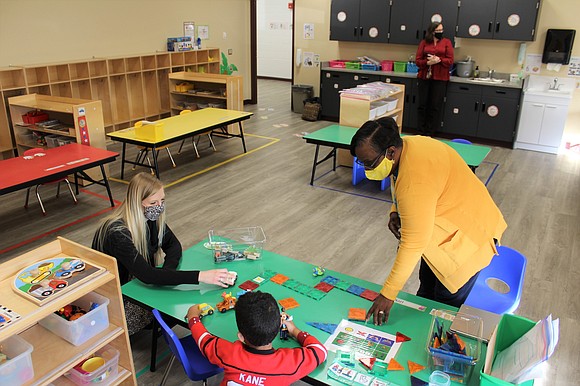 Two large rooms provide additional space for students, programs
A remodeling project at Troy Cronin Elementary School recently opened up two new classrooms for the district's preschool students.
Troy needed more space for its youngest students, with a growing student population, and Troy Shorewood Elementary School saw the need for more elementary-age classroom space. Preschool students formerly housed at Troy Shorewood were moved to the Troy Cronin rooms.
The classrooms opened October 19. Pamela Maxey, Troy's Director of Early Childhood Education, said they are functioning wonderfully.
"These two classrooms offered us the opportunity to centralize students at Troy Cronin," Maxey said, "and it's given our staff accessibility to collaborate as a preschool team."
The new space also will allow more students with specialized educational needs to attend as the school year progresses. Each classroom will house 20 students during a normal school year, although fewer during this period of Covid-19 regulations.
The larger of the two classrooms implements Troy's state grant-funded full-day preschool program. The teacher is Laura Flynn, who set up the room in pods, allowing each child to have a 6 x 6-foot area of their own. Siblings share a larger space. Each pod includes a table, chair, shelving, and bins for students' materials and personal items.
Kelly Forney teaches the students in the smaller classroom, which allows for more students with specialized educational needs to have the option of in-person learning.
Each classroom additionally has two bathrooms, a workstation sink, a drinking fountain and water bottle station, and large windows for natural light.
The large square footage of each room provides ample space for social distancing.
There is also a separate room in the remodeled space that is designed to be used by the preschool EL (English language) teacher and instructional coach, for preschool assessment, and for parent meetings and other uses
The space used for the classrooms previously housed Troy's Technology Department and gym storage. Cabinets and sinks were saved and used in the newly remodeled space.
Maxey said she and her staff are grateful for the support of the Troy 30-C Board of Education for providing the new learning space for Troy's youngest learners.
The district also has preschool classrooms located at Troy Heritage Trail and Troy Craughwell Elementary Schools.