Shutdown of schools hurting some bus drivers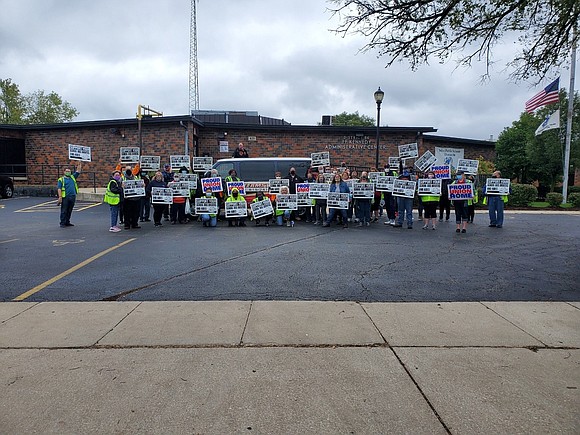 Nearly 60 school bus drivers and monitors protested with signs in front of the Joliet Public Schools District 86 administration building this week for their paychecks .
The drivers and monitors work for the First Student Inc. bus company, and about 70 bus drivers and aides who drive students for District 86 said they have not been paid since the end of the last school year. Lockport School District 92 has been paying their drivers and aides, but many others are not.
Chris Hadamik, of Joliet, also drives for the company, but drives students in Plainfield Community Consolidated School District 202 and she too has not been paid since May 1st.
"I can't believe we're not getting paid," Hadamik said of the District 86 drivers and aides. "That's no way to retain drivers."
Hadamik joined the rally Monday morning in front of the District 86 administration building, 420 N. Raynor Ave., in Joliet to support her fellow drivers.
Tony Seminary, of Shorewood, is the business agent for Teamsters Local 179 and represents about 300 drivers and aides who work for District 86 as well as other area school districts in Lockport, Plainfield and other neighboring communities.
Gov. J.B. Pritzker assured all districts would continue to receive state funding, including transportation funding, during the shutdown, according to Seminary. That funding typically gets allocated to each school district General fund.
The problem, Seminary said, is District 86 is continuing to pay First Student, but is only paying 40 percent of the contract. Seminary added that he discovered this after filing a Freedom of Information Act request with the district. That 40 percent, he said, does not cover pay for the driver and aides.
That reduced funding from the district helps First Student keep running as a company, but that's where it ends, according to Seminary.
"Keeping the doors open is wonderful, but without drivers and aides, it's all for nothing," he said.
Sandra Zalewski, director of Communications and Development for the district, stressed the contract is with First Student, Inc. She said an amendment to the current contract was approved by the school board on Sept. 9. That amendment is the agreement to pay 40 percent of the contract.
"First Student drivers and aides are not Joliet Public Schools District 86 employees," Zalewski said. "We pay First Student, not their employees. Again, First Student drivers and aides are not employees of the school district. The union in question does not represent school district employees."
Seminary said the drivers and aides are currently dipping into their unemployment during the shutdown, but that won't last. "People are starting to leave, which is going to leave the school district in a bad situation," he said. "They are not going to have the drivers they need to get the students back and forth between school and home. The transportation needs are then most likely going to fall back on the parents."
According to Seminary, the situation is causing some financial hardships for the drivers and aides. He said one driver had a contract to purchase a home she and her husband had built and lost it because she couldn't show proof of income to the lender. What made matters worse, he said, was she had already given notice to the landlord at the apartment where she and her husband were living. The landlord had already rented the apartment to someone else when she checked back when the loan fell apart.
"There's quite a few stories out there of some pretty bad things that have happened to people," Seminary said.