2020 Ford Mustang GT Convertible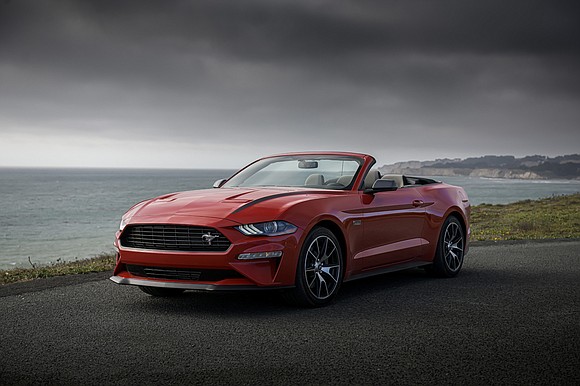 Ford has created a power packed lineup of its venerable Mustang. With a half dozen models, the automaker has created a horsepower stuffed lineup with enough oomph for just about every desire.
Power ranged from 310 to 760 and we were fortunate to have the 2020 Ford Mustang GT Convertible. It packed a 5.0-liter 460 horsepower V8 under the bulging hood that made 420 pound-feet of torque. The car had a quad tipped dual exhaust system.
If that was not enticing enough, the car had a six-speed manual Getrag transmission. The reason we mention the brand of the tranny was that putting the Mustang GT into gear was like the thump of a penitentiary cell door. Once in gear, there was no slipping out. And there was rev-matching technology, which made down shifting carefree.
If there was a downside to the 2020 Mustang GT it was mileage. But we don't know what you would expect from a 5.0-liter V8 engine. The car got 15 mpg in the city, 24 mpg on the highway and 18 mpg combined.
The car had a completely digital instrument layout. A large odometer as well as a large speedometer were for more than just show. In the gear readout told us what gear we were in and what gear we should be in. With the close shifting Mustang, that was appreciated. As was the speed we were traveling which was posted in the middle of the speedometer.
That may sound redundant, but the Mustang GT was not a cruiser. There was a lot of bumping, we felt most of the road surface, but we didn't hear many thumps except those of putting this car into a gear. Still, when we needed to know the speed we were travelling, it was good to be able to glance quickly at the speedometer.
And that glance had better be just that. The Mustang GT was quick and fast. Just slow shifting got us to 50 mph, easily. Our test car had a top speed of 155 mph.
Double-ball-joint independent MacPherson strut and tubular stabilizer bar comprised the front suspension. In the rear was an integral-link independent with coil springs, solid stabilizer bar and mono-tube dampers.
We were surprised when we found that this Mustang GT had drive modes, lots of them. There was normal and snow/wet, sport, track and drag strip. And there was three-mode electric power-assisted rack-and-pinion steering with pull-drift compensation and active nibble control. There were three steering modes too: standard, comfort, and sport.
And we've always felt that the faster the car the better the brakes should be. The GT had Brembo six-piston 36 mm fixed aluminum calipers in the front and Brembo six-piston 36 mm fixed aluminum calipers in the rear.
There were heated front sports seats. The driver's was powered, and the infotainment touch screen was touch. This convertible had keyless entry and exit and had start stop.
It was a soft top. Although there was a tonneau cover, we didn't need it. As it folded behind the driver the front third looked like a tonneau cover itself. It was a one latch operation.
Mustangs have always been 2+2. In other words, the back seats were too small to hold anything larger than grocery bags. As for people, you might be able to get a baby seat back there.
The Mustang Convertible had satellite radio, voice controls, rearview camera FordPass Connect with 4G Wi-Fi, Mykey, Premier trim with a voice activated touchscreen navigation system and the GT Performance Package which included 19-inch aluminum wheels and tonneau cap for the convertible top.
Externally, it had the famed Mustang in the middle of the grille, hood vents, the signature lighting, pony projection lamps on the doors, heated side mirrors, LED headlamps and capless fuel filler was some of the equipment.
This was a lot of muscle car for $45,130. Add $6,195 worth of options and a $1,095 freight charge and the final sticker was $52,420.
Frank S. Washington is editor of AboutThatCar.com