School districts moving closer to in-person learning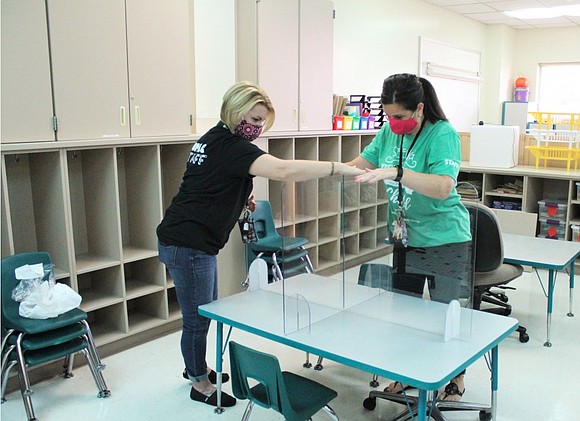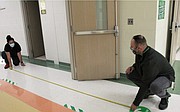 More school districts throughout Will County are moving closer to bringing students back into classrooms with safety precautions in place to protect both staff and students from the continued threat of the Coronavirus.
The Troy Community School District 30-C school board has agreed to allow an acceleration of the district's reopening plan to bring students back into classrooms, in its "Return to Learn" plan.
Also, Plainfield Community Consolidated School District 202 officials recently announced plans to start brining students back into the classrooms.
Some area school districts have are already started to bring students back into the classrooms via a hybrid, or blended learning, scenario. These plans are designed to reduce the number of students in the schools on any given day. Half the students might come in on Mondays and Tuesdays, while the other half come to school on Thursdays and Fridays, with Wednesdays set aside for remote learning. The hybrid plans differ for each district depending on what works best for them in their ability to keep students safe in terms of social distancing.
During a recent special school board meeting , District 30-C board members spoke about what they were hearing from Troy staff, parents and community regarding the district's return to in-person education plan. They said after considering the opinions and the metrics of the course of the spread of COVID-19, a change in student return dates was in order.
The new return to school plan, according to Supt. Todd Koehl, still constitutes a staggered three-staged plan, with a hybrid A/B model. Parents have chosen whether to continue to allow their students to participate in the remote, or at-home, Troy education program, or begin the transition to the in-school program.
In the new accelerated plan, there are no changes for the start dates for most Special Education, bilingual and morning preschool students, who will still be able to return to schools Oct. 5, for five days a week, four hours each day.
Students in kindergarten and Grade 1 and those in Grades 5 and 7, will be able to return to classrooms on October 19 in the hybrid (half days in-classroom, half days remote) A/B plan. The previous date was October 26.
Students in the remaining grades may return Nov. 2, also in the hybrid A/B plan. The previous date was Nov. 16.
Beginning Jan. 11, up from Jan. 25, all students would return to school five days a week, four hours a day, in the hybrid model. Wednesdays will be remote learning, four hours a day.
Live videoconferencing, district officials said, will ensure students learning remotely will be able to be seen and heard by the teacher and their in-school classmates.
School board president Mark Griglione summarized the board's wishes, and said he wanted to get students back into the classroom as soon and as safely as possible.
Meanwhile, District 2020 prekindergarten-12th grade multi-needs special education students are scheduled to return to classrooms on Oct. 26 as part of the district's plan to slowly resume in-person learning over the next four months.
Preschool and kindergarten students would return to school the week of Nov. 2. Older students would return in small grade-related groups between Nov. 16 to Jan. 19, 2021.
Families will receive additional details about returning to in-person learning as their students' return approaches.
Supt. Lane Abrell updated the District 202 Board of Education on the status of the district's "Return '20" plan at the Board's Sept.28 regular meeting.
The Board approved the "Return '20" plan on July 27. It includes three educational phases focused on the overarching principal of safety and flexibility.
The first phase began Aug. 31 with remote learning for all District 202 students. It called for returning those students first who most need direct instruction and support.
Meanwhile, district administration promised to monitor numerous criteria over the first four to six weeks of school to decide when to start the second phase – a controlled, moderated return to in-person learning.
Criteria include health metrics and safety guidelines, the availability of safety and cleaning supplies, regular and substitute staffing, and community feedback.
"All of us understand the importance of having students in school for face-to-face instruction," Abrell said.
"We have been studying this issue and working on return plans even before we started remote learning in August. However, we must do this in a thoughtful, deliberate, and safe manner," he said.
Timelines for returning students to in-person learning will depend on the success of each previous group, Abrell said. Staff will continue to monitor conditions as students and staff return to buildings to ensure compliance with all appropriate COVID-19 guidelines.
School could close again if conditions worsen. The length of and response to such closures will depend on specific circumstances.
A phased-in return will also let staff see how well the district can maintain inventory of personal protective equipment, ensure the availability of regular and substitute staff, and confirm student, staff and facility readiness.
"We must strictly adhere to the health and safety guidelines" from all local, state and federal health agencies, Abrell said. Failing to do so would put students, staff, and even the community at risk.
Those guidelines will include all students (except for those exempted for medical reasons) and staff wearing masks whenever they are in the classroom or schools.
"Masks are an essential tool to help ensure the health and safety of everyone in our schools. They are not a political statement or a First Amendment issue" Abrell stressed.
`"While some would like to think so, schools don't just exist in a vacuum," Abrell said. "We have said many times. This is not just a personal issue, or even a school issue. This is a community health issue."
Many students, staff and parents will be excited to see students return to in-person learning, however Abrell cautioned that no one should expect school to look like what it did before March 16 when schools closed.
"This fall we will be returning to a much more static, sterile environment," he said.
Likewise, many will also still be concerned about bringing nearly 26,000 students and 3,200 employees back to schools.
For that reason, parents will be able to choose remote learning or an in-person hybrid model for their students for the rest of first semester only.
Families who choose in-person hybrid learning may move to full remote learning during first semester. However, families who choose remote learning cannot switch to in-person learning until second semester to allow for appropriate staffing.
Valley View School District 365U plans to transition to in-school learning on Oct. 13 for students in designated special programs (PK-12+ Multi-Needs, PK-5 STLR, Elementary Cross-Categorical).
District officials said the next step is the finalization of a timeline with target dates for the phased return of students by grade level. VVSD administrators plan to present this timeline to the Board of Education and Community at the next school board meeting at 7 p.m. the Oct. 15 in the Lukancic Middle School Auditorium.
"We will also present an overview of the hybrid and remote plan that will be in place at each grade level," Supt. Rachel Kinder said. The meeting will be live streaked on the VVSD YouTube Channel.
Kinder said the community is "on the right track" with the management of the COVID pandemic. "The positivity data in our immediate ZIP codes allows us to move forward with our plans to begin transitions to a hybrid model for those who have selected this option. However, our goal is not simply just to open our schools, but to effectively mitigate risks, keep our students and staff healthy, and keep our schools open," she said.
More information about District 365U's plans for returning students to the classrooms is available at www.vvsd.org.