Will County Take Back the Night to hold 'Virtual Rally'
Facebook Live event scheduled for 6 p.m.
10/8/2020, 6 a.m.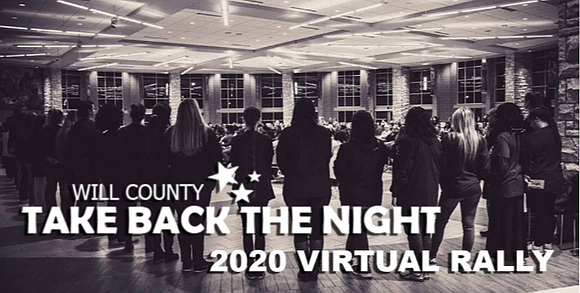 Will County Take Back the Night organizers have announced that this year's event will be a "Virtual Rally" to be held on Facebook Live at 6 o'clock tonight.
This yearly event brings survivors, supporters, activists, and community leaders together in a call for the end of violence against women. This year's event will address an issue of particular significance during this pandemic - how COVID has impacted local domestic violence victims and the agencies serving them, and ways individuals sheltering in place with an abuser can get help now.
The panel will include representatives from Guardian Angel Community Services and Bridges to a New Day counseling. The virtual event will include a memorial presentation commemorating the more than 60 women and children in Will County who have been killed at the hands of abusers over the past 10 years.
More information about the event can be found on Take Back the Night's Facebook page, which can be found at: https://www.facebook.com/willtbtn
"Take Back the Night" is held annually in October, which is national Domestic Violence Awareness Month. Although this year's event is virtual, the needs are very real. During the event, in lieu of the food pantry annually collected at the rally, Take Back the Night will share Amazon Wish Lists from local domestic violence shelters so that people can purchase and make donations of the items they need most.
Additionally, Take Back the Night seeks to raise $6,000 through the event to fund a scholarship for a domestic violence survivor and make donations to local charities that support women and children who have experienced violence.
Throughout October, members of the Will County community are encouraged to "Paint Will County Purple," by taking a selfie while wearing purple and telling Take Back the Night why domestic violence is important to you. Photos can be emailed to willtbtn@gmail.com, and will be shared on Take Back the Night's Facebook Page with the hashtag #PaintWillCountyPurple.
Additionally, throughout October, Take Back the Night's Facebook page will feature information about local agencies that serve women, facts about domestic violence, and ways to volunteer.
Take Back the Night began in Europe in 1976 and has continued throughout the world as a sign of empowerment for women, men and children. For nearly 25 years, Will County Take Back the Night has hosted an annual rally to raise awareness about sexual violence and to support survivors in their healing.
For more information, or to donate to Will County Take Back the Night, go to www.willtbtn.com or facebook.com/willtbtn. Will County Take Back the Night is a non-profit organization.