French Open stunner: Rafael Nadal defeats World No. 1 Novak Djokovic for 20th Grand Slam title
Win ties Men's Grand Slam record with his rival Roger Federer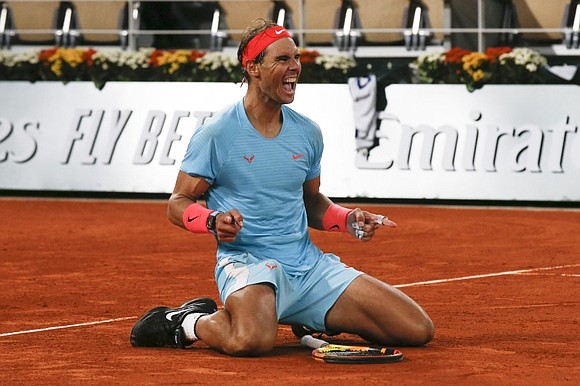 Spanish tennis whiz sets own French Open record
By Dwight Casimere
A flawless and dazzling performance saw Rafael Nadal dominate a lack-luster Novak Djokovic in straight sets, 6-0, 6-2, 7-5 to win his 20th career Grand Slam title at the 2020 French Open, Roland Garros, France.
Nadal has won the most French Open titles, a record for any player, male or female.
The win not only ties Roger Federer's record of 20 career Grand Slam wins, but also sets Nadal's own personal record for French Open trophies at No. 13.
In spite of his flat-footed showing, Djokovic was gracious to his long-time friend and competitor. "He keeps going. No holding him back, it seems like. I mean, I admire his achievements. All the superlatives you can use, he deserves them."
Nadal waxed poetic on his win in the City of Lights. "The love story that I have with this city, and with this court, is unforgettable," he told the sparse, but enthusiastic COVID restricted crowd. Diplomatically declining to take a reporter's bait on the Federer catch-up, Nadal went on; "To win here means everything to me. It's not the moment, honestly-think today about the 20th.
"Roland Garros means everything to me. I spent, here, the most important moments in my tennis career. No doubt about that!"
This win marks Nadal's 60th clay-court title and the 86th trophy of his career. He first won the French Open in 2005, the youngest to take the title on his first try since Mats Wilander in 1982. Nadal was just 19 years old. There are no more Grand Slam matches for the rest of the year.