Providence introduced a creative hybrid approach for In-person learning during Covid pandemic
10/13/2020, 10:38 p.m.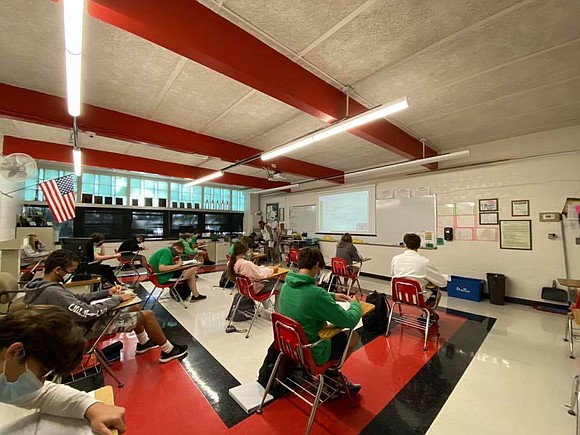 thetimesweekly.com
Providence Catholic High School returned to school with a unique hybrid of in-person and online instruction beginning August 24. The school has introduced technology that broadcasts classes to those students who are learning at home.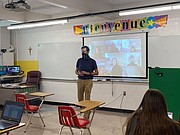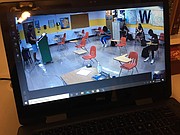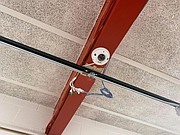 "Our blended approach differs from other models and other schools," explains Father John Merkelis, OSA, President of Providence Catholic. "The student body has been split into two cohorts, who attend class on alternating days. In addition, each classroom has been equipped with a camera and microphones, which broadcasts live to at-home learners to experience the entire classroom, including dialogue with fellow students, the whiteboard, and the teacher."
Thanks to this technology, students both at home and in the classroom can hear each other during their lessons, and have a more interactive experience. The school has been working with Mr. David Ripp, a Providence graduate and current parent, who works for Warner Audio Visual, Inc., and Mr. Rob Kole, an alumni parent, of Kole Digital. With their expertise and assistance, the cameras, microphones and technology in each classroom enable all the students to have a more constructive learning experience. Students are in class the entire school day, five days a week, with access to faculty.
"I definitely feel safe coming back to school. I know the faculty and administration had been working all summer long to ensure we could have in-person classes safely," says senior Michael Blake of Homer Glen.
There have also been many safety precautions put in place implemented for the school year. The facilities and maintenance teams spent the summer rearranging classrooms to allow for maximum social distancing, including at least six feet between desks. Two touchless temperature scanners were added to facilitate a safe entry for students and staff. Teachers and staff also disinfect each desk, chair, and lunch table after each class and lunch. Clorox-based fogging machines are utilized to sanitize and disinfect classrooms, bathrooms, and common areas each evening.
"With all these guidelines in place, I know that the safety of everyone is Providence's number one concern! While I am online, I am still getting an amazing college-prep education. The teachers are doing a remarkable job engaging students online with the students in class. The technology that our technology department has set up is incredible. Students online really feel like they are physically in school because of the web cams and microphones within the classroom. The teachers are still teaching lessons/ lecturing, creating projects, and assigning tests and quizzes," says senior Ashley Raymer of Joliet.
Despite the changes to the school year, faculty, continue to come up with unique and creative ways to help students learn. STEM and SEED classes are conducting experiments and research where students collaborate in Microsoft Teams, Physical Education classes are shaped to promote fitness that can be competitive but remain individualized, and more.
"Although this year looks quite different than when I walked in as a freshman, the same Providence still stands," says senior Anna Lennon of Shorewood. "Fr. Merkelis still is cheerful as ever in the hallways, teachers are helpful as ever before, and daily prayer is still as insightful as always. Even with all the COVID-19 restrictions, I continue to feel safe and loved at Providence. Although e-learning is not ideal with sitting by a computer for so long, I am thankful that we are able to go to school and receive a great education."
Providence Catholic is offering virtual tutoring in addition to in-person tutoring. In addition, the Counseling Department is working with colleges to host virtual lunches, as well as Zoom meetings and instructional videos for parents and students on college preparation and applications.
"And if in the future, Providence needs to pivot to online learning only, the system is already in place and students and teachers are familiar with it, so full class days can continue as they have been," adds Father Merkelis.
"The hybrid model has been a success for our son," says parent Lisa Paciga from Orland Park. "The Providence faculty and administration have taken meticulous care to create a safe environment when students are on campus. The safety measures are real, and everyone is required to walk the walk and follow the rules for the greater good of our school community. The unique technology investment that Providence has made allows our son to participate real time via live stream while being remote. He hasn't missed a beat in learning, and I'd argue that it's forced some welcome maturity as well."
Outside the classroom Providence Catholic students have also been busy competing in fall sports including tennis, cross-country and golf. The school's Marching Band has competed and placed second in two virtual national competitions by submitting their performances to be judged. Off-season sports that cannot compete due to state restrictions have been taking advantage of non-contact practice days at the school. "Our student-athletes are keeping in shape by working out after school in the weight room or on the track and are doing so using safety precautions to stay safe," said the school's athletic director, Doug Ternik.