Spike Lee Concert Doc at 56th Chicago International Film Festival now thru Sunday Oct. 25 with virtual and drive-in screenings
Spike Lee directs David Byrne's American Utopia on Thursday, Oct. 15. Visit chicagofilmfesival.com.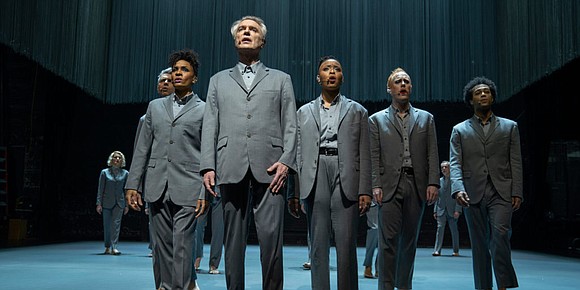 The much-anticipated 56th Chicago International Film Festival is now underway through Sunday,
October 25th. The festival is being presented in both drive-in and virtual screenings, including seven World Premieres, 58 features and nine shorts programs.
Spike Lee directs David Byrne's American Utopia also screens at the drive-in, Thursday. October 15 at 7pm in a Special Presentation-Documentary.
In this one-of-a-kind concert film, Oscar-winning director Lee brings the Talking Heads frontman's critically acclaimed Broadway show to life.
Recorded during its recent run in New York City, the production sees Byrne joined by an ensemble of 11 musicians, singers, and dancers from around the globe—including Chicago bassist Bobby Wooten III and Milwaukee guitarist Angie Swan.
The audience will participate in a joyous romp through hits from Byrne's 2018 solo album and Talking Head favorites "Once in a Lifetime," "Burning Down The House," and an electrifying cover of Janelle Monae's protest song "Hell You Taimbout."
Friday, Oct. 16 at 7pm, Black Perspectives After Dark, presents the Comedy Bad Hair by director Justin Simien. This hilarious horror satire set in 1989 centers on an ambitious young black woman who gets a weave in order to succeed in the image-obsessed world of music television.
City and State Documentary presentation The Road Up, directed by Greg Jacobs and Jon Siskel, the award-winning team behind the Festival hit documentary Louder than a Bomb, brings an inspiring film on the charismatic Jesse Teverbaugh and his job-training program Cara, and the precarious journey of four Chicagoans battling homelessness, addiction and incarceration in their quest for stability.
The Chicago Premiere of Regina King's directorial debut One Night in Miami, a fictionalization of the Ali (then called Cassius Clay), Sonny Liston fight of 1964, is on Friday Oct.23, 6:30pm. In addition to the Drive-in, It will also be available for viewing in the virtual cinema at chicagofilmfestival.com.
All Drive-in tickets must be purchased in advance. No in-person sales are done at the Drive-in. For information, visit chicagofilmfestival.com.