Early end to 2020 Census and its impact on the region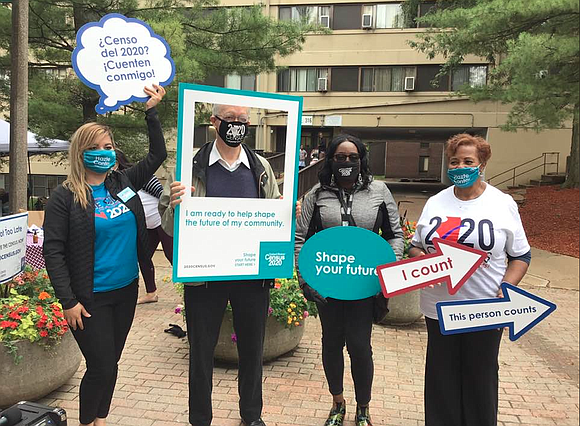 On the same day Census takers continued their work in Joliet and other parts of Will County, the Supreme Court handed down a ruling that could in effect put an abrupt end to anymore of that work.
The Supreme Court on Tuesday cleared the way for the Trump administration to end field operations for the 2020 Census, according to news reports. The ruling temporarily halts a lower court decision that had extended the count until Oct. 31. The ball is now in the Trump administration's hands as to when to officially stop the Census count.
"The harms caused by rushing this year's census count are irreparable. And respondents will suffer their lasting impacts for at least the next 10 years," wrote Justice Sonia Sotomayor in her dissent.
Amy Sanchez, a local community activist from Joliet, has been working tirelessly to ensure Joliet is fairly represented in the 2020 Census count and that as many as possible are counted.
"I find it repulsive that the current administration is being allowed to end the constitutionally mandated Census early," Sanchez said. "I applaud Justice Sonia Sotomayor being the lone justice to write a dissent regarding the harmful impacts of this decision.
"When our communities have a digital divide and breakdowns in communication it makes Census taking that much more difficult. The communities that are the hardest hit are most affected by this ruling. Hardest hit communities need every day to make sure everyone is counted. How clear and ironic is the message that hardest hit communities do not matter by not counting all of us in the United States Census."
Gwen Ulmer, pantry manager for the National Hook-Up of Black Women, Joliet Chapter, was working at the food pantry at 1705 Richards Street on Tuesday when census takers dropped by to see if they could collect some more data from people stopping by to pick up food. The census takers have been stopping by the food pantry regularly when it is open on the second and fourth Tuesday of each month, according to Ulmer.
"People are still out in the field and they'll keep working until their told to stop," Ulmer said of the census takers. "I don't know how much data they collected today, but they send the data right on the spot so I would think any additional numbers they got today would still be included."
Ulmer added how essential it is for everyone to be counted as it translates into funding for the Joliet area and representation in congress.

"If no one is in Washington representing us, we don't get our fair share," she said. "If you're not at the table, you can't get fed."
Will County Board member Meta Mueller (D-Aurora) has been heading up the effort to get the word out about the Census in the county and said she was disappointed about the ruling.
"People who live in the U.S. deserve appropriate representation and fair investment in their communities. That is why we do the census every decade. I think that the SCOTUS decision could result in irreversible damage to communities all over the country," Mueller said.

She added that Will County was 78.4 percent counted as of Wednesday. In 2010, Will County were 76.9 percent counted. "I think the data speaks for itself, " Mueller said. "Census Bureau staff and enumerators in Will County have done a great job. I wish we could give them two more weeks to get a more accurate count in our hard to county communities."
George Pearson, chairman of the Will County Republicans Central Committee, said the SCOTUS ruling in favor of the Trump administration to end the Census early should not be a surprise.
"Our country and the County of Will have been on such severe lockdowns that if a person failed to be counted in this Census, they decided not to participate as many have during election cycles," Pearson said. "The Census count this year could not have been made easier. I do not think it took me five minutes to complete my household."
Ulmer said the ruling is yet another example of why it is essential for people to take part in the voting process.
Both Ulmer and her 93-year-old mother have already sent in their Vote By Mail ballots. From health care and putting an end to the Coronavirus pandemic to the stimulus package that so many of the unemployed and small business owners have been counting on, the stakes are high in this election, Ulmer said.
"I think what has been lost is the respect for our nation," she said. "There was a time when our citizens and people around the world respected the United States of America."
Ulmer said she knows many voters around the country have already cast their ballots. "Trump has scared enough of us that we are voting," she said. "People know this is important and when you don't like what's going on, you must vote.
"Voting will change the character of this country. He has given people the authority to be rude and ignorant. I'm even seeing some local Republicans acting in the same manner as Trump," she added.
Will County Board member Ken Harris (D-Bolingbrook) said the future and the soul America are at stake in this election. "Now is the time to stand up and decide our future," he said. "No one person can bring about change but we as a people can make it happen."
Harris said he is excited to see younger people with diverse background get more involved in the political process. This, he added, includes everything from voting to becoming a candidate, and making their voices heard to being a true reflection of our society.

"It is so important for everyone to vote in these Presidential elections. So much is at stake and our future will be based on this election," Harris said. "Voters need to vote for every person and every item on the ballot. My hope is that the voters will vote in this Presidential election as well as continue their energy through the consolidated election in April 2020."
The local elections, he added, are essential and it is those elected officials who "drive America. "At the county level, we impact the global economy by being part of the largest inland port in North America, connecting west coast ports by rail to the Midwest. Our voters are becoming more knowledgeable about the election process and how the results impact their communities."
This election, Harris added, will bring about a new County Board, County Executive, and County Coroner. In addition there will be new leadership at the municipal levels as well. Change is good."
While Pearson disagrees with Democrats on the direction of the county, state and country should be headed, he sees the importance in being part of the process. "Because literally, your very existence depends on who you vote for, and that includes choosing not to participate in the process," he said.
Sanchez said the 2020 vote is very important and there is much at stake both as a nation and locally.
"We must stand up for our rights and be the voice for everyone who may be cancelled, not counted, not heard, suppressed and silenced," she said. "Our vote speaks volumes."