Will County Health Department reports 652 new COVID cases since Friday
IDPH will move Will County to level Orange on Friday
By Rex Robinson | 10/20/2020, 6 a.m. | Updated on 10/16/2020, 10:48 p.m.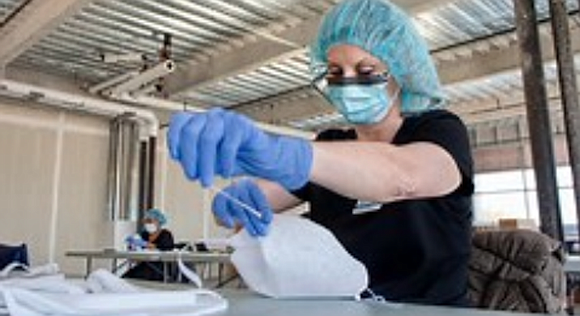 Health officials from across the state and locally are sounding the alarm as COVID cases are again surging and Will County is among a number of counties now at level Orange, according to the Illinois Department of Public Health.
The Will County Health Department on Wednesday reported 17,448 Coronavirus cases, an increase of 138 from Tuesday, while reported deaths from the virus increased by one during the same time period to 425.
As the cases continue to rise, some school districts in the region are pausing moves to transition students back into the classrooms.
Valley View School District 365U Supt. Rachel Kinder on Wednesday announced a decision to enact a two-week pause in the district's timeline to bring Pre-Kindergarten through 5th grade hybrid program students back to school.  
Region 7, which includes Will County, and immediate community Zip Code data trends have recently emerged that show "concerning movement," Kinder said. "We need additional time to watch these metrics, have a firm understanding of the level of community transmission over a period of time, and reassess the plan to return larger populations of students. In this case, approximately 60 percent of the PK-5 student population (split into two groups for hybrid) are planning to return on site, in addition to staff.  
"We are at a critical point in planning for elementary transition to hybrid; pausing now would cause a lesser disruption to students and staff; pausing immediately after adjusting classes and during bridge week on-site will be extremely disruptive for students, families and staff."
Meanwhile, the IDPH on Monday reported 347,661 Coronavirus cases, 9,236 reported deaths. More than 6.8 million people had been tested for the virus, IDPH officials said. The recovery rate from the virus was listed 97 percent, according to the IDPH's website.
The Centers for Disease Control on Friday reported 47,045 new cases since Sunday, bringing the total to 8.12 million, while deaths from the virus nationwide rose by 475 to 218,986, according to the CDC's website.
Five weeks after being dropped from the IDPH list of state counties at the warning level, and four weeks after additional mitigations were dropped for Illinois' Region 7 (Will and Kankakee Counties), Will County again finds itself listed as one of Illinois' "warning level" counties.
Will County Health Department Executive Director Sue Olenek said the top priority right now is for Will County residents to follow all COVID-19 precautions, with the immediate goal being no return of additional restrictions
"We all know what happened the last time we went orange," Olenek said. "We ended up with restrictions, and I don't think anyone wants to go back to that. We must remember to follow the three Ws: Wash (our hands frequently), Watch (our social distancing), and Wear (your masks properly over the nose and mouth). Also, avoid the 3 Cs: Closed spaces, close contacts, and crowded places. When we relent on these principles, we see a surge in positive cases!"
Counties appear on the IDPH Warning Level list when they have hit two of a variety of factors showing signs of increased Coronavirus activity. One is a rate of new COVID-19 cases that is over 50 per 100,000 residents. For Will County, the week of October 4-10 showed 133 new COVID-19 cases per 100,000 residents (the previous week's level was 87). The second factor Will County hit was a substantial increase in the amount of COVID-19 deaths. Will County had 13 deaths for the week of Oct. 4 through Oct. 10, after a very slow period of COVID-19 deaths in late September. For numbers concerning Region 7, go to this IDPH link: https://www.dph.illinois.gov/regionmetrics?regionID=7.