Pace receives 2020 APTA Innovation Award
I-90 Market Expansion Project recognized for collaboration with Illinois Tollway and several other regional partners
10/28/2020, 10:07 p.m.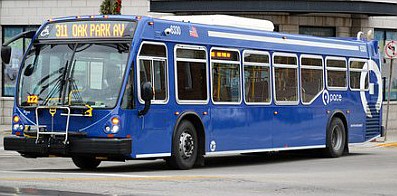 Pace was recently honored as one of only two innovation award recipients throughout the country in 2020. Given to a public transportation leader whose accomplishments and innovations have greatly advanced public transportation, the American Public Transportation Association's (APTA) 2020 Innovation Award was given to Pace this year for their collaborative I-90 Market Expansion Project, the largest service expansion in the agency's history. The APTA Innovation Award acknowledges public transportation systems that demonstrate innovative concepts or effective problem-solving techniques not previously applied in the public transportation industry.
Pace Suburban Bus and the Illinois Tollway forged a unique partnership to work in coordination on expanding transit, delivering roadway improvements and improving overall mobility on the Jane Addams Memorial Tollway (I-90). Since the late 1990s, regional planners voiced the need to address congestion on Illinois' portion of I-90, a regionally significant corridor that stretches from Chicago through Rockford to Wisconsin. Simultaneously, planners were closely monitoring the Tollway portion of I-90 between Rockford and Chicago that was originally built in the 1950s and was approaching the end of its useful life. Traffic analysis in 2010 projected that I-90 travel times would double by 2030 if nothing was done to address the growing levels of commuter and freight traffic. They determined that roadway construction alone would not be the solution. Planning for the Tollway's investment in rebuilding and improving I-90 became a coordinated effort with Pace's plans for its I-90 Market Expansion Program.
"Collaboration was the key to this project's success," said Pace Executive Director Rocky Donahue. "Every partner involved in this project ultimately has the same goal, and that's to serve the people of this region."