Activists make bold proposal for cannabis sales tax revenue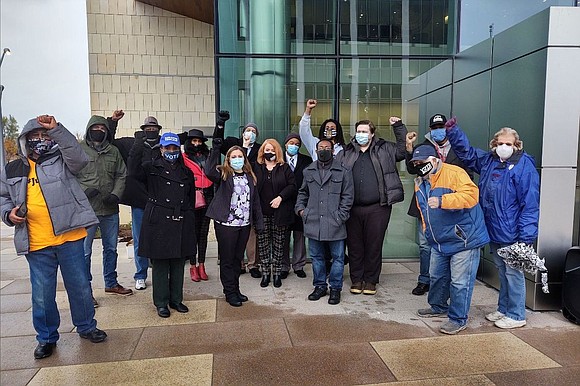 A Will County board member along with local activists stood in front of the new Courthouse in Joliet this week and made their case for social justice in the form of earmarking cannabis revenue sales tax dollars for programs to repair injustices done to Black Americans.
"The Time for justice is now. Get it right Will County." said Ernest Crim III, of Joliet, leader of the Joliet chapter of Gatekeepers and a high school educator.
Crim gave an impassioned speech on why it's important for the county board to approve a newly proposed resolution that would create a committee of nine black individuals to advise the county on how to spend its tax revenue from recreational cannabis sales.
He and others spoke about injustices done to Black people throughout history on both the national and local levels, pointing out how many Black youths in Will County have been jailed for minor drug offenses including possession of small amounts of cannabis and other drugs.
Crim also reminded those attending the press conference that it was on the same date in 1986 when then President Ronald Reagan signed into law the Anti-Drug Abuse Act which, established mandatory prison sentences for specific drug offenses. This Act, according to Crim was a form of discrimination against Black people as it resulted in the incarceration of millions of African Americans and higher sentences for those caught with small amounts of crack (rock) cocaine as appose to the powdered form of the drug. During the 1980s, crack cocaine was the drug used among Black Americans with addictions because it was less expensive than powdered cocaine.
"This caused the prison population to grow from 500,000 to 2.3 million in a little more than 20 years," Crim said.
"If you are against the conversation and implementation of the reallocation of resources to repair the intentional strategic damage done to the Black community... then you are in fact anti-Black and anti-American. Furthermore, you have revealed yourself to be a proponent of structural violence and are complicit in the continuous destruction of our country's core patriotic principals that declared, all men are created equal, with the right to life, liberty, and the pursuit of happiness."
Will County Board candidate Joel Brown, of Romeoville speaking as a former prosecutor and defense attorney said, he has seen what the war on drugs and incarceration has done to the community.
"When you lock up a young woman or man for the possession of cannabis... you don't just lock that person up, you lock up their mother, their wife, their children, the people that they love and need to support," Brown said. "This country has locked up too many people over its entire history. We now have more people per capita in prison than anybody else in the world. North Korea might have us beat. If you are racing with North Korea for something, you are doing something wrong."
DuPage Township Precinct Committeeman Daryl Parks, of Bolingbrook, said the resolution is not about the money. "This is about a transfer of power, it's about letting loose, and letting other people control their own destinies. This is about Black people being able to make decisions that affect Black people."
Will County had received more than $45,000 from the state allocation of cannabis sales tax revenues, according to Karen Hennessy, finance director for the County Executive's office.
The state tax began Jan. 1, 2020 and the county first received funds in March, which follows the typical three-month process. The proposed resolution could be voted on by the Will County Board at its December meeting, according to Ventura.