Restrictions could impact area restaurants hardest with rising COVID cases
By Rex Robinson | 10/29/2020, 6 a.m.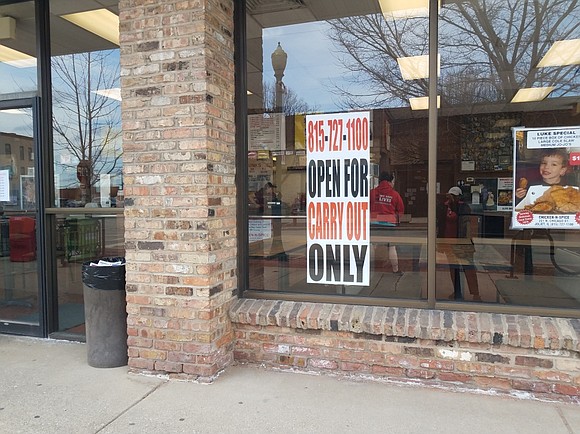 Gov. J.B. Pritzker late last week announced new COVID mitigations for Will and Kankakee counties that include no indoor service at bars and restaurants and group meetings limited to 25 people.
Some restaurant and bar owners, however, have opted to ignore those mitigations, including at least one in New Lenox. In a statement on the JBD Whitehorse Inn website, the owner said, "while we continue to respect our community, our staff and our families' health and safety, closing our doors is not an option. We will continue to be open for indoor dining, outdoor dining on our patio (and) carry out."
Pritzker said public health officials are "observing businesses blatantly disregarding mitigation measures, people not social distancing, gathering in large groups, and not using face coverings. Mayors, local law enforcement, state's attorneys, and other community leaders can be influential in ensuring citizens and businesses follow best practices," he said.
COVID cases in Will County surged by more than 500 between Friday and Monday, according to Will County Health Department Spokesman Steve Brandy. He reported total cases of 18,452 on Wednesday, an increase of 75 from Tuesday, while reported deaths from the virus remained unchanged at 430.
School districts across the county have responded to the surge in cases and some have opted to continue keeping students learning remotely from home. Joliet School District 86 plans to continue remote learning into January 2021, while the plan to return Plainfield Community Consolidated School District 202 students to in-person learning will be delayed until further notice because of changing COVID-19 conditions, staffing challenges, and scheduling, district officials said Monday.
The pandemic has impacted retail establishments throughout Joliet and Will County and many owners are becoming frustrated with the continued shutdowns related to the mitigations.
"It is unfortunate that our bars, restaurants, and other facilities affected by the further mitigations are again in this position," Mike Paone, vice president of the Joliet Region Chamber of Commerce & Industry. "We're hearing a lot of frustration, worry, and uncertainty about the future. To date, we're still unsatisfied with the answers that we've received from the State regarding the metrics used to determine these shutdowns. We strongly believe that the total positive case percentage should be used rather than the total positive test percentages."
Paone said he and officials from other area chambers were still waiting on answers from IDPH from the first round of mitigations back in August. Also, there is new concern with the addition of antigen tests to the mix, he added. "We've seen locally the ineffectiveness with these tests and false positives and now they're being added to the test numbers," he said.
"Going forward, especially with the weather, it is going to be detrimental for any further shutdown of indoor patrons," Paone added. "We're working on considerations to allow them to remain open period, but if that will not be the case then we need to come to some compromise that allows a slight reduction rather than a full closing."
He said there is concern many establishments will simply not be able to recover from this recent round of further mitigations and any future action will surely "hit hard on what is left." The Illinois Restaurant Association, according to Paone, has said that closing indoor services could lead to 20 percent of places closing and up to 120,000 jobs lost.
"We have heard that IDPH recently showed data pointing to only 10 percent of cases coming from bars/restaurants. It has also been reported that DuPage County has statistics pointing to only 6 percent of cases linked to bars/restaurants. The Governor keeps referring to ten to a dozen studies on this industry contributing, but we have not seen any of them and none of them are reportedly from Illinois."
Joliet Mayor Bob O'Dekirk also is unsure how many times restaurants are going to be able to restart after being continuously shut down. This will be the third time restaurant and bars in the county have had to shut down due to rising COVID numbers and some may not survive another shutdown. "They're really taking it on the chin," O'Dekirk said.
O'Dekirk urged residents to support the restaurants during the current shutdown and order carry out.
This week, Pritzker and IDPH announced updated guidance for youth and adult recreational sports, including, but not limited to, school-based sports, travel clubs, private leagues and clubs, recreational leagues and centers, and park district sports programs. Collegiate sports and professional leagues are not impacted by these restrictions.
"We can't ignore what is happening around us – because without action, this could look worse than anything we saw in the spring." Pritzker said.