Joliet officials say yes to reforms, no to defunding police
By Rex Robinson | 9/2/2020, 6 a.m.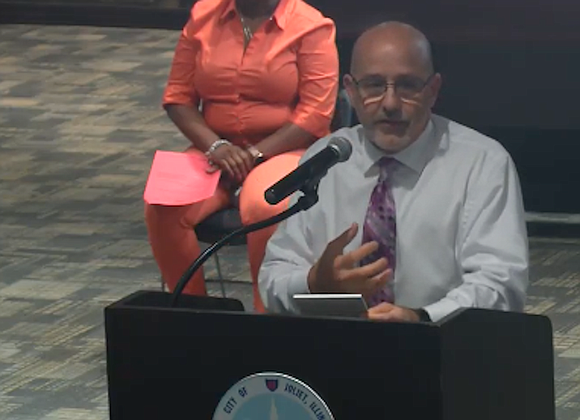 When it comes to policing in Joliet, city officials are discussing everything from adding body cameras for officers to buying new tasers and increasing the number of community police units on the streets.
One thing city officials won't be considering is defunding the police department.
"We need money for the body cams. We need money for training. We need money for more community policing," Councilwoman Jan Quillman, who chairs the Public Safety Committee, said at Tuesday's City Council meeting. "So, if you defund the police, you're not going to have any money to do all these things."
David Braner, Chief Information Officer for Information Technology in Joliet, estimates equipping city police officers with body cameras will cost between $500,000 and $800,000 annually.
"This is not as simple as throwing a camera on an officer and calling it a day," Braner said. "It's not a one time number. It's a recurring expense for the city."
Other expenses associated with the body cams would include hiring additional full time employees to compile and log all the video from each of the body cams on a regular basis and the city would likely have to upgrade computer software, according to Braner.
The police department also needs to upgrade its tasers and Braner added it might be better to purchase the body cams and tasers at the same time. Buying in bulk might translate into some savings for the city. He said it would take about a month to come back to the council with an estimated cost for both the tasers and body cams.
Meanwhile, Quillman said she spoke to a staff member with Congressman Bill Foster's office and found there could be some grant funding available for expenditures associated with policing. Joliet might be able to get a federal grant to help pay for the equipment, she said.
'We did what we said we were going to do and we continued the police reform discussions.'
- Joliet City Councilwoman Jan Quillman
Joliet's 2020 fiscal year budget for the Joliet Police Department was nearly $60 million. With the revenue losses the city has incurred from the Coronavirus pandemic for the past few months, Mayor Bob O'Dekirk told The Times Weekly after Tuesday's meeting that Joliet is no position financially to start spending large amounts of money for anything right now.
He said while he supports body cameras, there is a significant cost associated with them and without some type of grant money, it's not going to happen in the near future.
Police reform in Joliet has been a hot topic issue as of late. First there was the scuffle between O'Dekirk and a protester that was caught on video in late May following protests over the George Floyd killing and then a police dash cam video from Jan. 28 surfaced showing Joliet police trying to scoop something out of a suspect's mouth from the back of a squad car following an arrest. The suspect, Eric Lurry Jr., 37, later died at hospital and the Will County Coroner ruled he died from ingesting drugs.