Record number of black tennis stars add drama to 2020 US OPEN
Osaka, Williams move into final rounds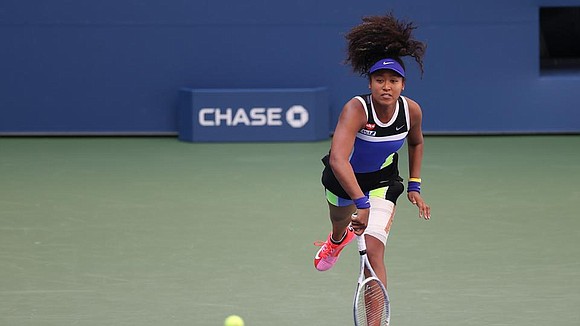 "There are 16 young Black men and women competing in this year's US Open, perhaps the most in the history of the event," declared Chris Matthews, one of the ESPN commentators at the 2020 US Open.
To be sure, players of color, from the US, Canada and Japan, have raised eyebrows and, in some instances, the level of play.
Naomi Osaka will next meet No 28 seed American Jennifer Brady in the semifinals. She moved moved into the Quarterfinals against Shelby Rogers on Monday in a match that ended well after midnight. She made the most dramatic statement of all of the athletes, declining to play her semi final match in the Western and Southern Open, held at the Billy Jean King International Tennis Center just prior to the Open. The entire tournament ceased competition for a day in concert with her protest. She has been wearing a facemask emblazoned with the names of different victim of police violence at each of her matches. She plans seven for each of the deciding matches, through to the final.
In the post-match interview with ESPN, Osaka was surprised by video messages from Trayvon Martin's mother, Sybrina Fulton and Ahmaud Arbery's father, Marcus Arbery. Sr.
"I just want to say thank you for representing Trayvon Martin on your customized mask," Martin's mother said.
"Thank you for the support of my family," the Sr. Arbery said. "God bless you for what you're doing and your supporting of our family with my son."
A stunned Osaka replied, "I feel like I'm a vessel at this point, and in order to spread awareness and, hopefully, I can help with anything that they need."
Later, at a news conference, she told members of the media "I was just trying not to cry.
"For me, it's a bit surreal. It's extremely touching that they would feel touched by what I'm doing. For me, I feel like what I'm doing is nothing. It's a speck of what I could be doing. It was really emotional. I'm really grateful, and I'm really humbled."
Entering Arthur Ashe stadium, Osaka wore a facemask bearing the name of George Floyd. Osaka was born in Japan to a Haitian father and Japanese mother. She is now the highest paid female athlete in the world. Her name is associated with a number of product endorsements in Japan and the U.S.
Serena Williams managed to pull a rabbit out of the hat to move into the quarterfinals against Bulgaria's Tsvetana Pironkova. She declined to make direct comment on the Black Lives Matter protests, instead deferring to her religious beliefs and commitment.
"I've always said that my hope is in God's Kingdom. I've taken solace in my religious beliefs," she said at a post-match news conference.
Serena defeated Maria Sakkari of Greece 6-3-, 7-6, 6-3.
Pironkova returns to the pro tennis tour after a three-year absence, and is playing her first tournament since becoming a mother. The 38 year old Williams was tested by her last two matches, which seemed to demand a lot of her.
On the men's side, Francis Tiafoe moved into the Round of 16 for the first time in his career, only to bow to Russian Daniil Medvedev.
Similarly, Second Seed Dominic Thiem ended the quarterfinal dreams of young Canadian Felix Auger-Aliassime. Keenly aware of his position as a Black competitor on the world's pro tennis stage, Felix took the loss philosophically. "I think what I'm doing here is really important. It lets the young people know that anyone that looks like me can really make it. When you're on the tour, it's a real melting pot. You don't feel like you're an outsider. You're competing against people from Europe, Asia, and Africa. You get a real feeling of acceptance everywhere. The tour is really good with that. They're really open-minded and make you feel that you're just as good and accept the differences of the others. I think to the young people who watch us, they get the feeling that if we can do it, they can do it too."