U.S. DOT grant adds important piece to Rock Run Development puzzle
Officials see project as major economic boon for Joliet, Will County
By Rex Robinson | 9/16/2020, 4:28 p.m.

The City of Joliet is in line to receive a big financial boost that will help move along a major 265 acre economic development project at Interstate 55 and I-80.
Congresswoman Lauren Underwood (D-Illinois) on Wednesday announced that Joliet will receive $20 million in additional grant money from the U.S. Department of Transportation for an I-55 interchange where the Rock Run Crossing development is proposed. Part of the plan includes rebuilding the interchange at I-55 and Route 52 in Shorewood.
The grant, which is funded by DOT's Better Utilizing Investments to Leverage Development (BUILD) Transportation grants program, follows successful efforts by Underwood to increase funding for the BUILD grants program, officials said.
Expanding BUILD grants and other federal investments in suburban and rural transportation infrastructure has been a top priority for Underwood throughout her term in Congress. She fought to boost BUILD grants funding in congressional appropriations for both fiscal years 2020 and 2021, securing an increase of $100 million for the current year.
"For too long, the unique infrastructure needs of rural and suburban communities in northern Illinois have been overlooked. That's why, since day one, advocating for more BUILD funding was one of my highest priorities. Infrastructure is a smart investment that pays off, and I'm thrilled this BUILD funding — one of my top priorities — is coming to Joliet where it will help make our roads stronger, safer, and less congested," Underwood said.
A major multi-use project being developed by Cullinan Properties, plans call for a mix of retail office/medical, multi-family, entertainment and hospitality. Part of the project includes plans for a 16-screen movie theater complex known as Regal Cinemas, a variety of casual and fine dining restaurants, fitness center, hotel and lodging. A groundbreaking ceremony was held for the theater portion of the project in 2019.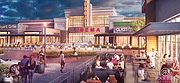 "This has been something we have been working on for several years," said Joliet Mayor Bob O'Dekirk.
Councilman Larry Hug, chairman of the city council's Economic Development Committee, also applauded the additional grant money. "The cost to the city for this interchange is already minimal. Any additional money directed to this project will further reduce any cost to Joliet," Hug said.
This interchange will not only benefit the Rock Run Crossing project, according to Hug. "It will open up that entire area to commercial development," he said.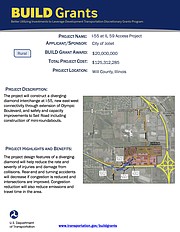 John Greuling, president and CEO of the Will County Center Economic Development said the BUILD Grant award is an essential piece to the Rock Run Crossing project. Converting the current limited access interchange to a full diverging diamond interchange is necessary for the project to move forward. While the site for this project is one of the best commercial/mixed use sites in the entire metro area, it has always been hampered by the limited interstate access, Greuling added. The I-55 at IL 59 Access Project solves that dilemma, he said.
"Besides opening up a prime site for development, it will be the catalyst for launching one of the most important mixed use developments ever for Joliet and Will County," Greuling said. "With thousands of construction and full time jobs and millions of dollars in tax revenues the economic impact is substantial. It also will benefit from the reconstruction of I-80 and the new interchange at Houbolt Road.
More information about the BUILD Grant is available at https://www.transportation.gov/BUILDgrants.