District 202 staff prepares schools for in-person learning
By Rex Robinson | 9/25/2020, 6 a.m.
Plainfield School District 202 administrators plan to update the Board of Education on Monday on plans for returning to in-person learning. Information will be shared publicly at the Board meeting and posted online after the meeting.
District 202 staff are currently installing safety devices such as plastic dividers, directional stickers and social distancing reminders as the district plans and prepares for an eventual return to in-person learning.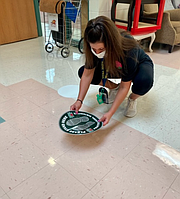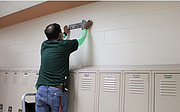 Supt. Lane Abrell said district staff will continue to follow the district's "Return '20" plan, take its time and assess the many things that will affect the district's ability to safely run the fifth largest school district in Illinois.
Abrill added that per the Return '20 plan, and in no order of importance, she, administrators and the Board are continuing to watch:
• The Will and Kendall County COVID-19 metrics
• Guidance from local, state, and national health agencies
• The numbers of available teaching and support staff
• The numbers of available substitute teachers
• The availability of personal protective equipment (PPE)
• Safety equipment supply chain issues
• Community, staff, and student input
"We will continue to consider these issues through the end of September or early October and announce a decision as soon as possible," Abrell said.
"Meanwhile, we are working as quickly as we can to bring students back into classrooms, starting with our most at-risk students who need more in-person adult support.
"This pandemic is an unbelievable challenge for everyone involved. We know and respect that. Remote learning is not the optimal solution, but it is the best solution available under the circumstances. My head swims and my heart breaks just thinking about how hard this is for so many in our community."
For more information about the district's return to in-person learning, visit http://www.psd202.org/page/returning_to_school