Gambero Rosso goes virtual for 2021 Part II
Primitivo Manduria Wines of Puglia, Italy Master Class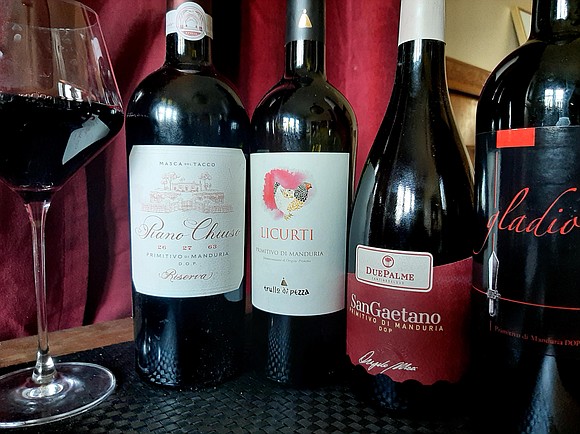 The wine regions in and around Puglia in southern Italy are steeped in tradition and history. Its hills are where many of the bloodiest battles of medieval times were fought and where kings and knights ruled. The stories whispered inside the walls of its many castles and historic towers are the stuff of legend. Montferatto and its famous tower are not only its keepers, but also the source of its most celebrated wines. Hills redolent of volcanic soil roll down to fields awash in Mediterranean climes that produce wines of intensity, rich in flavor and aromatics.
Gambero Rosso, the Italian multi-media repository for all things Italian in food, wine and travel presented a virtual Master Class with producers and representatives from nearly a dozen wineries of Puglia Manduria. The session, via Zoom, was presented to a panoply of wine journalists from around the world. It was presided over by Marco Sabellico, Senior Editor to Gambero Rosso.
The Consortium Primitivo di Manduria regulates the DOP and DOCG producers from 18 communities between Taranto and Brindisi, located in 'the heel of the boot' of Italy. Although established in 1998, the origins of Primitivo predate the birth of Christ by several centuries.
Of the 11 wine producers presented, these were the wines that made the most unique statements to this Wine Writer and Certified Sommelier.
-Trullo di Pezza Licurti 2018-$15
Represented by Andrea Fattizo. This is a rich, bold wine with soft tannins. It opens on notes of dark fruit; blackberries, currants, black cherries and then reveals jammy notes of dried fruit and prunes, followed by notes of bay leaf and some cocoa and tobacco. The finish is persistent, making it a perfect companion for roasted or braised meats and strong cheeses.
-Masca Del Tacco-Piano Chiuso Reserva D.O.P.-$24
USA Brand Manager Micol Minnetti of Poggio le Volpi Wine and Food tells the story of this fine Primitivo from Puglia. "This is a modern interpretation of an ancient wine," she describes.
"We achieve this by combining old methods with modern technology." 100% Primitivo with 14.5% alcohol, which comes from one-hundred-year-old vines, located in an ancient estate in Manduria.
The name Piano Chiuso literally means 'closed vineyards,' referencing the stonewalls that surround the old vines vineyards. This is the winery's flagship that consistently garners a 90-point rating. Strong cassis and dark heavy fruit derived from the mineral rich soil give way to a long finish marked by notes of cloves, vanilla and chocolate and a leitmotif of aged wood.
Medium-bodied, this is a wine that should be decanted to allow its dominant alcohol presence to 'breath' and let its floral notes emerge.
This is a terrific wine to have with grilled meats. Think of a butterflied Leg or Rack of Lamb with Mediterranean spices (Harissa comes to mind), or a healthy slathering of Rosemary or Thyme infused olive oil, basted and turned regularly over hot coals dotted with hardwood and a side of grilled giant asparagus spears. This will make for a fine al fresco meal some summer evening.
-Due Palme San Gaetano Primitivo Di Manduria DOP-$15
Established in 1989, Cantine Due Palme has become the leader in the production of indigenous grape varietals in Salento, principally Primitivo, Negroamaro, Malvasia, Nera and Susumaniello. The wine is completely estate grown and produced.
A key feature is the Alberello, literally 'small tree.' This traditional method of bush vine cultivation results in wines of concentrated and complex fruit.
Vinified in steel tanks before aging in both barriques and oak casks for six months, the bouquet is rich in notes of ripe red fruit. The wine is smooth and rich with a velvety texture and a pleasant, long tannic finish.
-Vini Bosco Gladio 2018-$14
Export Manager Piermichele Guerrieri presented this exquisite wine.
"Cantine Bosco was founded in 1985. It is a cooperative of about a thousand local farmers in the district bounded by Taranto and Brindisi. We have the honor of producing wine in the ancient tradition of Salento. Primitivo is actually Zinfandel, which comes from the ancient Zinfarossa, which was brought to California.
"Cantine Bosco is the old estate that was completely restored. Its primary feature is the long tower where the wine was produced by gravity, with the tanks underground. The tower is now a luxurious place to taste our wines and to witness how our wine is produced and stored. All the production is strictly controlled and vinification occurs in stainless steel and then in glass in order to preserve the integrity of the
fruit."
Gladio is an intense, full red wine. The longer you hold it in your mouth, the more you experience the flavors of ripe fruit, quince and jam. The alcohol content is quite high, 16%, but you don't have any sensation of it, because of its natural method of vinification.
"This is a versatile red wine that can take you straight through the meal," Guerrieri noted. " It can go from cold cuts and strong cheeses, to grilled meats to a dessert combination of Almond Cookies and dried figs."
There are only 70 thousand bottles produced per year of this special wine.
"I like this interpretation of Primitivo," mused Marco Sabellico, who led the Master Class. "It's clean cut and pure, very representative of the wines of the Manduria.
" Everything can be found in the glass. It has iron notes, aromatics and big fruit. One thing I notice is the freshness. Although its 16 degrees (alcohol content), it is very well balanced. It is quite dry. It has its own personality. It is different. Its perfect for pairing with grilled meats and other rich foods because of its richness and full flavor."
Primitivo Manduria is an intriguing wine. Although all of the wines presented in the Master Class were from the same grape, they were each quite different.
"The origins of Primitivo are shrouded in mystery," Marco Sabellico mused at the conclusion of the Master Class. "There is one theory that it was created from an ancient varietal that came from Austria and was brought over to California and renamed Zinfandel sometime in the mid-19th century. But we love to think of it in terms of the Zinfarossa, which brings its origins back to Manduria where this variety became famous. "
To say that Primitivo is elusive is an understatement. It is, as the old Seinfeld saying goes, "a riddle wrapped in a mystery, inside an enigma. " You can embark on your own journey of discovery, simply by opening a bottle. For more on Primitivo Manduria, visit gamberorosso.it.
-