Montecucco, Tuscany's best-kept secret steps out with new leader
Sustainability is key to wine region's future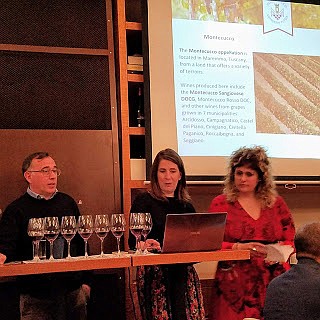 Montecucco is Tuscany's best-kept secret, yet it is one of Italy's most distinctive wine regions. Now, the region is poised to come into its own under the leadership of the new president of the Consortium for the Protection of Montecucco wines, Giovan Battista Basile. Owner of Basile Winery, he was named after the Management Board meeting on February 25.
"I am extremely pleased to be entrusted by the councilors. And honored to inherit an important legacy," said the new president. Under his leadership, Basile said his ambition is for the consortium to become "a real beacon for all the producers.
"Our goal is to strengthen our industry and introduce it all over the world," Basile continued. "The new council faces a difficult economic situation in general, which is heavily reliant on the on-premise sector that is waiting to restart after the vaccination campaign."
Montecucco sits in the southern part of Tuscany. Not so well known as its famous neighbors, Montalcino and Morellino di Scansano, Basile says he has his work cut out for him.
"We have a viticultural heritage dating as far back as the eighth century," Basile pointed out, "but our winemaking zone was only awarded its DOC classification in 1998.
The key element of Montecucco is sustainability. "Almost 70% of our production is organic. This will be the main asset of the consortium."
By law, the celebrated Rosso red wine of the region must feature a minimum of 60% Sangiovese, the "King of Italian grape varieties." Montecucco Rosato is based on 60% or more of Ciliegiolo and/or Sangiovese. The microclimate is among the most ideal for wine production.
"Monteccuco is a wilderness yet to be discovered," Basile concluded enthusiastically. "Our goal is to consolidate the positive trends of the past to increase our visibility and to focus on the retention of the domestic market and expansion in the US." It is an ambitious set of objectives, but Basile says he welcomes the challenge. For more on the wines of Montecucco and its producers, visit consorziomontecucco.ot.