Will County Health Department reports 677 new COVID cases
By Rex Robinson | 4/6/2021, 6 a.m.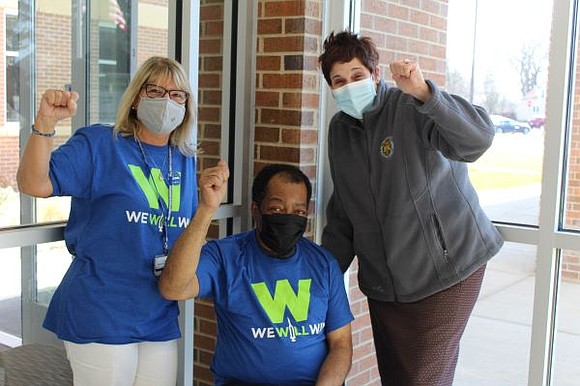 The Will County Health Department on Monday reported 69,665 COVID cases, an increase of 677 from Thursday, while the number of reported deaths remained unchanged at 951.
The Health Department on Thursday announced that 100,000 people (14.5 percent of the total population) have now been fully vaccinated.
A Bolingbrook man, named Kenneth (the Health Department did not reveal his last name) marked number 100,000 to receive the vaccine. More than 281,000 doses of the COVID vaccine have been administered in the county, officials said.
VNA Health Care and the Southwest Suburban Immigrant Project will launch the COVID-19 vaccination campaign on Monday, April 5. The Project launch will begin with a press conference at at 8:30 a.m.
This series of vaccination events has been developed to improve vaccination access for vulnerable populations in collaboration with Congressman Bill Foster and State Representative Dagmara Avelar with support from Romeoville Mayor John D. Noak, Congresswoman Marie Newman, State Senator John Connor and Joliet Junior College Board Trustee, Nancy Garcia.
"This past year has been indelibly shaped by the emergence of the COVID-19 global pandemic. Throughout this time, VNA has been dedicated to the delivery of care to vulnerable populations at increased risk of health disparities. After a year in which we have not only seen extraordinary challenges and loss, but also courage and resilience, VNA is thrilled to collaborate with The Southwest Suburban Immigrant Project and our legislative partners to bring VaccinateWill! to the Will County community as we know that getting vaccinated helps save lives," said Linnea Windel, RN, MSN, FAAN, President and CEO VNA Health Care.
Ongoing COVID-19 testing and vaccination services are provided by VNA at clinics, community events and homes in Will, Kane and DuPage Counties.
Visit: www.vnahealth.com for more information.
"Black & Brown communities have been hit the hardest by this pandemic and have not had access to the covid19 vaccine in an equitable way. Partnering directly with community-based organizations is a powerful equity tool for outreach, and we are proud to partner with VNA to model what that looks like in bringing this vaccine event to Will County," said José Eduardo Vera, J.D. Executive Director, The Southwest Suburban Immigrant Project.
VaccinateWill! Community Vaccination Clinic is by appointment only. VNA Health Center at 160 N. Independence Blvd. (Rt. 53) Romeoville,.
Registration now closed. Participant parking will be in the lot adjacent to VNA at Valley View High School. Handicap parking will be available the outside Health Center.
The Illinois Department of Public Health on Monday reported 1,258,736 statewide, an increase of 2,102 from Sunday, and 21,384 reported deaths from the virus, an increase of 11 from Sunday.
The IDPH on Monday reported 300,328 have received the COVID vaccine in Will County and 107,712 (15.56 percent of the total population) have been fully vaccinated. A majority of those (65.8 percent) are White, and 7.54 percent are Black, while 11.4 percent are Hispanic.
Find more information about those who have been vaccinated in Will County at https://www.dph.illinois.gov/covid19/vaccinedata?county=Will
As more people throughout Illinois are getting vaccinated and numbers continue to trend in the right direction, state health officials are responding in kind.
Gov. JB Prtizker on Thursday announced a "Bridge Phase" between Phase 4 and 5 of the Restore Illinois Plan to allow for faster reopening of the economy as vaccine administrations in the state are now averaging 100,000 per day.
"COVID-19 has not gone away, but the light we can see at the end of the tunnel is getting brighter and brighter as more people get vaccinated," Pritzker said. "It's time to begin to cautiously move toward normalcy, and it's imperative that we do so in a way that maintains all the progress we've made to date."
Pritzker added that projections from the Biden Administration are indicating weekly vaccine deliveries to Illinois will surpass one million doses in April. He said it is fully within everyone's power to "turn the page on this dark and devastating chapter even as we race a tough clock: the new variants. I invite all Illinoisans to join me in wearing your mask and getting vaccinated when it's your turn. Step by step, we can get out of this the same we came into it – together."
In recognition of an increasing national vaccine supply and the state now averaging 100,000 vaccine administrations per day, Pritzker also announced that all Illinois residents age 16 and older will be eligible for the COVID-19 vaccine starting April 12th, with additional announcements to come about populations who will be made eligible prior to universal eligibility.

Currently, every region of the state is in Phase 4 of the five-phase Restore Illinois mitigation plan, with Phase 5 comprising a post-pandemic normalcy. The newly announced metrics offer Illinois a bridge between the state's current Phase 4 restrictions and the "new normal" operations of Phase 5. This "Bridge Phase" will serve as a transition period with higher capacity limits and increased business operations, without prematurely embracing a reckless reopening before the majority of Illinoisans have been vaccinated. All regions of the state will move through the Bridge Phase and ultimately to Phase 5, together. The state's mask mandate will continue in accordance with current CDC guidance.
Metrics and Guidelines
As Illinois moves towards the new normal, the administration is outlining clear metrics that will allow the state to continue progressing in the battle against COVID-19 without sacrificing the gains made over the last twelve months.
The bridge to Phase 5 allows for higher capacity limits at places like museums, zoos and spectator events as well as increased business operations. As with all mitigations the administration has implemented to combat the virus to date, the Bridge Phase is based on science and was developed by health experts.
To advance into the Bridge Phase, the entire state must reach a 70 percent first dose vaccination rate for residents 65 and over, maintain a 20 percent or lower ICU bed availability rate and hold steady on COVID-19 and COVID-like illness hospital admissions, mortality rate, and case rate over a 28-day monitoring period. To advance to Phase 5, the state must reach a 50 percent vaccination rate for residents age 16 and over and meet the same metrics and rates required to enter the transition phase, over an additional 28-day period.
To prevent a large increase in new COVID-19 cases, Illinois will revert back to an earlier phase if over the course of 10 days the state experiences an increasing trend in COVID-19 and COVID-like illness hospital admissions, a decrease in ICU bed availability, an increase in the mortality rate, and an increasing case rate.
In an update to current Phase 4 mitigations and the capacity limits of the bridge to Phase 5, individuals with proof of full vaccination or a negative COVID-19 test (PCR) 1-3 days prior to an event or outing do not count against capacity limits. The mitigation plan announced today also includes additional adjustments to current Phase 4 mitigations, made in coordination with business leaders and health experts, to ensure mitigations reflect the latest science and are consistent across industries.
As regulations are rolled back gradually in the weeks ahead, Illinoisans should continue practicing the public health guidelines that have kept us safe during the pandemic, including wearing face coverings and maintaining social distance.
"Today's announcement provides what retailers across Illinois have been seeking: a clear path forward to a full re-opening that will help stem the devastation the pandemic has inflicted on the industry. This will also help bring some financial stability to state and local governments that rely on the vital revenue stream retail generates. With the expanding availability of vaccines – including those offered at hundreds of retail pharmacy locations across Illinois – we are hopeful the pathway toward a full re-opening will be a short one," said Rob Karr, President and CEO, Illinois Retail Merchants Association.
"The plan outlined by Governor Pritzker is a step in the right direction, and we appreciate him understanding the need for a roadmap to allow hotels and convention centers to hold larger meetings and events," said Michael Jacobson, President and CEO, Illinois Hotel & Lodging Association. "This underscores the importance of providing clarity to event planners, supports our shared goal of getting people back to work safely, and illustrates why the Governor's announcement reflects his desire to serve as the chief marketing officer for the state."
"While we still have a long way to go, today's announcement is an important step towards recovery," said Sam Toia, President and CEO, Illinois Restaurant Association. "We have urged Governor Pritzker to set a path to allow for expanded events with extensive safety measures in place, and this pragmatic approach to loosening restrictions will greatly enhance business opportunities for restaurants, event companies, conventions, and culinary tourism — all of which are critical to Illinois' economic engine."