Teen first in Illinois to take USA Boxing Nationals
Joliet brings home a win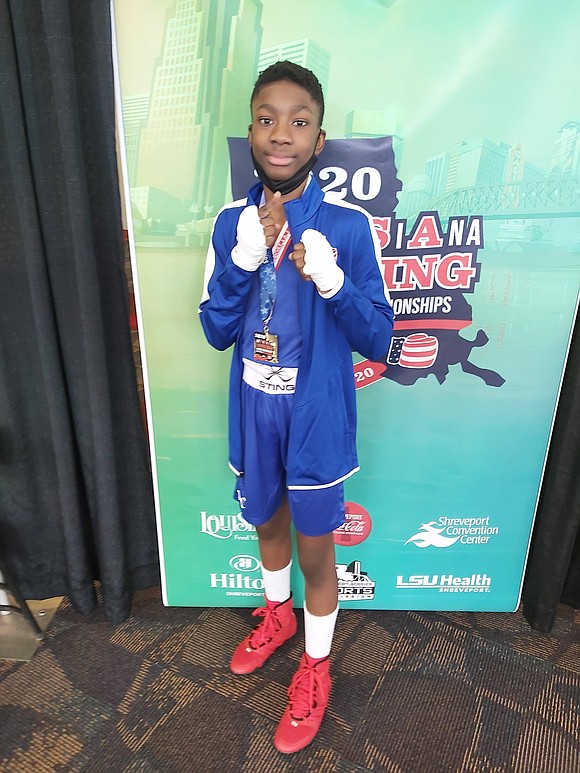 Easter weekend 2021 had a special significance for the family of 13 year-old Joseph 'JoJo' Awinongya of Joliet. He is the first Illinois resident in history to win the USA Boxing National Championships. He took the 2020 title Easter weekend winning the medal in Shreveport Louisiana.
"This was actually the competition for the 2020 title, because last year's championship was canceled because of COVID," said his father and trainer Joseph Awinongya Sr.

JoJo won in the 106lb middleweight division. He is the overall winner of 8 titles. JoJo took his first national title in 2019 when he was just 11 years old. He has been boxing since he was five.
Young JoJo took this year's crown with a crushing win over Asanta Lamar, from Ohio.
"Asanta is a southpaw," (left handed) JoJo explained. " I had to really change up my game plan to win. His biggest defense was to throw me off. His main goal was to stop me from going to his left. So I switched up and got off some clean punches in with my right hand."
Unlike the trash talking of professional boxing, the two teen opponents were good sports, hugging each other as they passed off the first and second place medals and posed for pictures.
"I'm really proud of my son, because he lived up to a contract we had between us," said a beaming Joseph Sr. "We promised each other that I would train him hard, if he did well in school." JoJo is currently enrolled in a college enrichment program at Joliet Junior College through Washington Academy.
Boxing is a tradition in the Awinongya household. Joseph Sr. came to the US and Illinois in 2004, with the express purpose of becoming a national boxing champion. "I'm from Ghana, West Africa, and came to Illinois to train. I was fighting Polish boxers at the time and there are a number of them here. I came to Illinois in order to train to fight them in the US."
The junior JoJo is the youngest champion in the history of the sport and the only Illinoisan to win a national title.
"It costs over two thousand dollars to mount a national championship run," a very savvy JoJo said. "I've been lucky to have a lot of support from local sponsors." The list is growing daily, among local car dealerships and local political leaders, past and present.
Remember the name of Joseph 'JoJo' Awinongya. He's put Joliet and Illinois on the map as the home of the world's youngest national middleweight champion.