Comic Doc Jessica Watkins:SPECIALish On Demand, Digital
From so-so standup comic to solo crusader On Demand and Digital May 11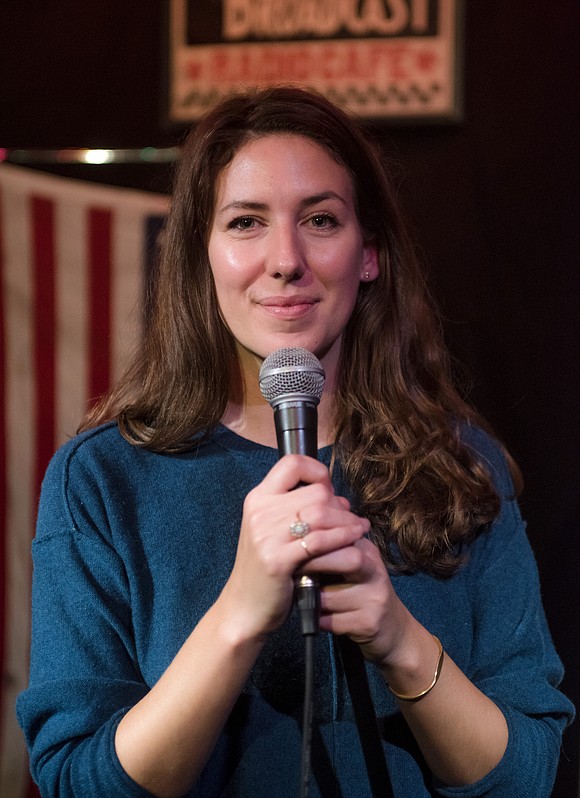 Jessica Watkins:SPECIALish is the self-directed and written story of a New York standup comic who found herself caught in a rut, and who made a bold decision to climb out of it. Jessica Watkins made a documentary of her solo walk across America.
Pretty scary stuff for a 28 year old woman traveling alone, but she was determined to stand out from the pack. The resulting film will be available May 11 On Demand and on all Digital platforms.
Already, the film has won Best Film at the Broad Humor Festival and Best Film at the New Filmmakers Festival NYC.
Jessica's story began in her hometown of Nashville, which she left at 18 years old to seek fame and fortune in New York as a standup comedian. After struggling for ten years, while supporting herself as a waitress, she decided it was time to strike out and do something bold.
By her own account she was five years in as a stand up comic and getting nowhere. "I could only do 20 minute routines. I was just starting to build a set. You have to have something that makes you stand out-your 'thing,' a schtick, your brand. You need something to get noticed.
"So, that was the plan. I was going to leave New York, as it were, pack up a cart and walk out on this big comedy tour. I'd do standup along the way and then I'd film everything and I would take all that material and use that for my first BIG comedy special. It didn't all go exactly according to plan," she said with a note of resignation.
The walk just was as much about self-esteem as it was about bolstering her career. "I call myself a stand up comic, but really I'm a waitress. I've been waitressing for ten years. I thought that if I threw in there that I walked across America, that would make me into something. "
In 2017, after taking a two week survival class and throwing every dime she had into buying a camera and hiking gear, she set out from Delaware on the American Discovery Trail, a patchwork quilt of trails that eventually winds its way to San Francisco.
"It takes you anywhere from 6 months to a year to complete. Each day I planned to walk between 10 and 20 miles. I've got a cell phone and solar panels," she said, pointing to her less-than-adequate equipment. "It'll be a breeze!"
Friends and family expressed trepidation. How safe is it for a woman to walk alone across America? That's a question she would pose to her standup audiences at stops along the way.
"Everyone was so nice and so receptive to what I was doing," she observed. " But they were so scared for me, about being alone."
The journey was as much about her self-esteem as it was about affirming her value as a woman.
As she told an audience on her first comedy club stop in Lewes, Delaware, "People are really concerned that I'm a woman doing it, but women can do it. Even sometimes alone. 'Women Walking.' We do it!"
Jessica planned comedy shows along the way.
"I had several comedy clubs lined up in DC. It was cool. I was finding this groove of what it was like to walk across America. And then, I couldn't walk."
Not even a week into the walk, Jessica was starting to experience knee and joint pain. She sought relief in acupuncture, and fortunately, it worked.
Scouring a network of hikers and bikers on the web, Jessica found shelter and comfort along the way through a loose network of sympathetic souls who would allow her to spend the night. The accommodations were often Spartan, but a far cry from sleeping in the cold and damp in a flimsy nylon tent.
"I've walked a thousand feet up the Appalachian Trail," one elderly host joked. "In reality I hitchhiked part of the way to California. I was 23. In my prime!
"I hope you have a .357 Magnum in your back pocket!" he cautioned, half jokingly.
"Aren't you afraid, being alone on the road? One of her hosts asked while drinking beer and shots of Ronrico in the back storeroom of a ramshackle General Store.
"Some people live in that," Jessica responded. "Every day, they live in a situation. I can't let a year of the unknown stop me from doing things."
Not all of the shows Jessica did on her walk were formal comedy dates. Some were in places that had simply a make shift stage and an 'Open Mike' format where Jessica shared stories about the quirky people she met on the road.
There was no end to oddball sightings. There was a woman pushing a baby cart with all her possessions inside and her toy poodle. Another woman was a specter of Jessica's older self. She walked in silent determination, neither looking to the right or the left. Unlike most of the other walkers she met along the way, this woman didn't even bother to acknowledge Jessica's presence. What a sad and solitary soul she was.
"She was like an older version of me," Jessica mused with a hint of sadness.
Anyway, there were miles to go before she slept and little time to entertain a downer.
A family tragedy derailed her walk midstream. "Within ten hours of getting that phone call in the middle of nowhere, I was back in Nashville."
Forced to regroup and retool, Jessica headed out once again, this time stopping in Pie Town, New Mexico. "From the beginning of my walk, I would meet these cross country travelers who would tell me about Pie Town. It's a hiker/biker haven. The only thing they have is a pie shop. There were supposed to be other people there, but it was Thanksgiving, so I was all alone in this big cabin with no running water and no Wi Fi. Just me and a bunch of old cassette tapes and a measly fire that I had to keep going."
Jessica had walked 16 hundred miles over 7 months. Exhausted, broke and unemployed, she still pressed on.
"I don't know where I'm goin'. But I know where I've been," she sang softly to herself, while going through a journal of entries left by fellow travelers who had previously stayed in the cabin. Their words of hope and gratitude gave Jessica the courage to carry on.
"I'm homesick, but right where I'm supposed to be," she wrote in her own journal entry. "I'm lonely, but free." And so the journey of Jessica Watkins continued.
Jessica Watkins: SPECIALish, from Random Media. Available everywhere On Demand and on all Digital Media May 11. Visit jessicawatkinscomedy.com.