Economic development takes center stage in Will County
By Rex Robinson | 12/1/2021, 3:24 p.m.
Business means jobs and officials from the Will County Center for Economic Development (CED) understand that in a big way.
The CED is geared up to present its Annual Report to Investors on Friday, Dec. 3 at the Bolingbrook Golf Club.
"We're really excited about this year. This is the first time our investors group, guests and friends are going to be meeting in person since March 2020. We're really looking forward to that crowd interaction and getting a chance to get in front of people." John Greuling, President and CEO of the CED said.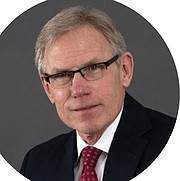 This year's event will feature a celebration of the CED's 40th anniversary and a reflection on its four decades of impact.
That, according to Greuling, is significant as it's rare to find a private, not-for-profit economic development corporation with the connections the Will County CED has both in the public and private sectors last 40 years.
"The reality is economic development groups tend to sort of go with the flow and ride the tide with strong economy," Greuling said. Many, however, don't last through the tough economic times, he added. "They tend to either slow down or go away.
"It's a testament to both the private and the public sector leadership in Will County that the CED has been able to, not only last this long, but have a real positive impact on the Will County economy and it's been my pleasure to work here for 20 years."
Any economic developer, Greuling added, would love to spend as much time as he has in Will County. "What we have here is an economic development laboratory. We see projects that some communities will never see."
Will County is unique from an economic standpoint because the county can accommodate a variety of different businesses. That, according to Greuling, is a testament to the diversity of Will County and its transportation assets.
Guests at Friday's event will enjoy breakfast, networking with CED investors and partners, and look at this year's biggest economic wins for the region. One of those will include the Lion Electric Company, a Canadian based manufacturer of all-electric medium and heavy-duty urban vehicles, which has plans for a 900,000 square-foot plant within an existing facility at 3835 Youngs Road in Joliet. It represents Lion Electric's largest dedicated production site in the U.S. It is the company's first-ever U.S. manufacturing facility and the largest plant of its kind in the country.
Dan Seals, the special guest is the new Chief Executive Officer of Intersect Illinois, a statewide economic organization focused on attracting business to the state.
Greuling said Seals is a very important partner for the CED. Intersect Illinois is like the CED for the State of Illinois. It's a public private organization and its main purpose is to market the State of Illinois to businesses both nationally and internationally.
"They are a very important source for business prospects for us and the quality of the work they do enhances local economic development all over the state. We're very excited to have Dan."
Greuling has known Seals for a number of year and said he "brings a lot of connectivity throughout the state to the job.
Seals is expected to offer takeaways from his first months at the helm and his insight on Illinois' economic future.