Will County moves to Phase 4
Firefighters, nurses volunteering to administer COVID vaccines in Joliet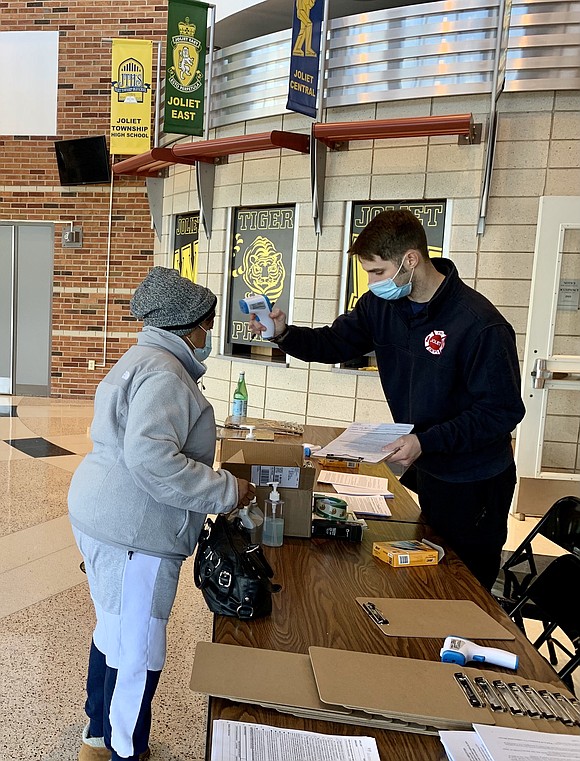 The Illinois Department of Public Health on Monday officially moved Region 7, which includes Will County, to Phase 4 of the Restore Illinois Plan, and more people throughout the region are starting to receive the COVID vaccine.
Joliet Mayor Bob O'Dekirk on Tuesday applauded Joliet Firefighters, nurses and retired nurses who have been volunteering their time to administer COVID vaccine shots at Joliet West High School.
"The only thing limiting us right now are the number of vaccines available," O'Dekirk said.
City Manager Jim Capparelli encouraged people to sign up and get on the list so they can get the vaccine when it becomes available.
"We believe we could do 500 to 1,000 vaccinations a day," Capparelli said.
Currently those in Phase 1B, which includes an estimated 3 million people in Illinois, are expected to get the vaccine. Among this group are educators as it is a priority to get students back in school.
Councilwoman Jan Quillman, a retired nurse is one of those volunteering to administer the vaccines. She said she and the other nurses and firefighters will be out there until March.
As for moving into Phase 4 of Restore Illinois, Will County Executive Jennifer Bertino-Tarrant said this is positive news for residents and business owners, as well as a reflection of the commitment residents are showing to stay vigilant in the fight against COVID-19. "All of us are feeling 'COVID fatigue' and this move into Phase 4 will allow us to regain more of our normal activities," she said.
Bertino-Tarrant cautions the public to still observe the Three W's – wear your mask, wash your hands, and watch your distance. The vaccine is being rolled out in a safe and measured process. Currently, those 65 and older are being contacted to schedule a vaccine.
"Beginning today, our local restaurants, bars, personal care and other locations can begin to accommodate more customers while still maintaining safety measures," she said.
IDPH will continue to closely monitor test positivity, ICU bed availability, and the number of people in the hospital with COVID-19 in the county. If data shows a region trending in the wrong direction, based on the established mitigation metrics, regions could once again find themselves in a higher tier with increased measures.
Additional information about which tier and phase regions are in can be found at the top of the IDPH website homepage. A Phase 4 Guidelines Overview can be found on the Illinois Department of Commerce and Economic Opportunity website.