Health Department overwhelmed with calls for COVID vaccine
New call center to help residents get information and appointment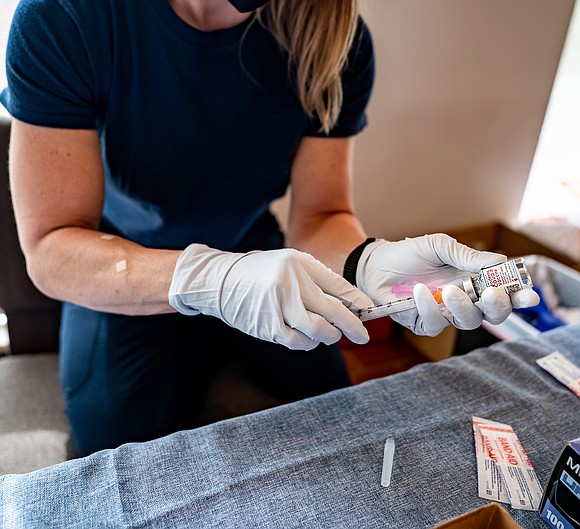 Faced with a hundreds of calls from residents seeking information about how to receive the COVID vaccine, Will County officials have set aside an estimated $2 million to assist with opening a new call center.
The County Board on Monday authorized setting aside the funds from the Coronavirus Aid, Relief, and Economic Security (CARES) Act that were distributed last year. The new call center will assist the Will County Health Department with their call response. The Health Department has been inundated with inquiries in the last few weeks from residents seeking information on COVID-19 vaccinations, officials said.
"The Health Department has been overwhelmed fielding calls from residents seeking information about the vaccine," said County Board Speaker Mimi Cowan (D-Naperville). "The County Board has stepped in with extra funding to make sure residents get the information that they need and can get scheduled for a vaccination appointment."
Calls to the Will County Health Department COVID-19 hotline are topping more than 800 per day, some days reaching 1,000 calls per day, which is overwhelming the current system as residents in the 1b category, 65-plus and essential workers that include those who work in schools, are trying to schedule appointments for the vaccines. The current infrastructure cannot keep up with this demand. Today, in a special meeting called by County Executive Jennifer Bertino-Tarrant, the County Board unanimously approved allocating $2 million of CARES Act funding to remedy this issue.
The call center will have 25 operators working 8:00 a.m. until 7:00 p.m. and 25 percent, or five operators, will be bilingual in Spanish. The call center is anticipated to be live within the next two weeks. And while this call center will help alleviate issues with scheduling vaccines, the actual distribution of this vaccine is still dependent upon supply.
Health Department officials in Will County have been receiving a scant more than 2,000 doses of the COVID-19 vaccine incrementally which is making vaccinating its nearly 700,000 residents a great challenge. Currently the health department is working to schedule approximately 100,000 residents for first and second doses of the life-saving vaccine and with consistently limited supply deliveries, many residents are scared and frustrated with the delay in receiving the vaccines.
County Board member and Public Health and Safety Committee Chair Rachel Ventura (D-Joliet) said a lack of vaccine stock has hampered the immunization rollout throughout the state and made scheduling appointments difficult.
"There is a shortage of vaccines in Illinois and nationally," Ventura said. "This makes it very challenging to schedule appointments because the Health Department doesn't always know when their next shipment will be delivered, let alone how many doses will be included."
The County Board authorized the contract with Harris and Harris to operate a call center that will support the Health Department. Harris and Harris will be charged with fielding intake requests and providing follow up calls to remind residents of their appointment and when they can schedule their second dose. The contract will be for a six-month period.
"We still have funds from the CARES Act that we can use to fund this call center," said County Board Minority Leader Mike Fricilone (R-Homer Glen). "There is no question that this is an appropriate way to use these funds. Residents are relying on the Health Department for their vaccinations and the County Board has stepped up to fund this need."
Harris and Harris operate call centers nationally and county officials expect them to hit the ground running. County Board leaders expect the new call center to begin fielding calls as soon as the staff is hired and trained which could happen in the next week or two.
"Residents can expect better response times and follow up for scheduling and appointments when they call the health department," Cowan said.
"The first phase of the vaccine process was for health care workers, who are on the front lines of this virus on a daily basis," said County Executive Jennifer Bertino-Tarrant. "To date in Will County, we have vaccinated 51,932 of our residents, with 14,145 of our residents fully vaccinated with both doses. We are now focused on vaccinating our seniors, as well as our educators, frontline workers, and anyone who works in a high exposure occupation."
Bertino-Tarrant said the Illinois Department of Public Health is also working with some local pharmacies such as Walgreen's, CVS, Meijers, and Jewel/Osco. The Executive's office is working with the Health Department and the Emergency Management Agency to be prepared with mass vaccination sites to immediately start when the supply of vaccines become more available.

"Please understand patience is needed as the supply currently does not meet the demand," she said. "We want to be fully staffed and ready to get as many shots in arms as possible when we receive larger shipments of the vaccine. It seems like a race against time. We want to protect as many of our residents as possible as quickly as we can."
In the meantime, residents are still encouraged to visit the website and register for the vaccine at www.willcountyhealth.org or call (815) 740-8977.