Citizen's review panel considered for Joliet Police Department
By Rex Robinson | 2/11/2021, 6 a.m.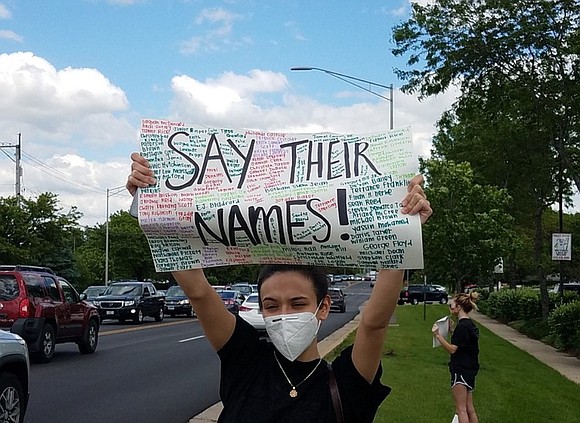 A push is on to create a citizen's review panel in the hopes of providing some oversight of the Joliet Police Department.
That push came as a result of some Joliet residents, who were involved in Black Lives Matter protest marches over the summer following the death of George Floyd, who died after a Minnesota police officer kneeled on his neck. Passions for police reform in Joliet elevated to new heights after a Joliet police dash cam video surfaced showing officers attempting to pull something out of the mouth of Eric Lurry in the back of a squad car in January of 2020. Lurry would later die at an area hospital and the former Will County Coroner would rule he died from swallowing large amounts of drugs. Lurry's wife has filed a lawsuit against the officers involved in the incident.
For many months, the family and several local residents showed up at Joliet City Council meetings demanding police reform, carrying signs that read "No Justice No Peach" and "Black Lives Matter."
Big changes have since occurred at the top ranks in the Joliet Police Department administration, including appointing a new interim police chief, Dawn Malek, who appointed a new female deputy police chief and two other new African American deputy police chiefs.
Joliet City Councilwoman Jan Quillman, chairwoman of the council's public safety committee, said she doesn't know a lot about Malek, but knows she has "an impeccable record. To have our first woman chief, I think we've come a long way,"
As for creating a citizen's review panel, Quillman said she thinks more research is needed.
"We need to look at what other communities have done, and definitely need to get input from our new chief, the command staff and the rank and file," she said.
Garland Mays, 50, has lived in Joliet all his life, said he favors creating a citizen's review panel, but it should be done right. Chris Regis, inspector general and assistant corporation counsel for Joliet, recently presented a draft of what a Citizen's Review Committee might look like, but Mays said in many ways it looks the same as the Joliet Police and Fire Commission. "It seems to have the same language," Mays said.
Mays, who went through the Joliet Police Department's Citizen's Police Academy, said anyone appointed to the new committee should be required to attend that committee so they can see what the Joliet Police deal with while on the job. "That should be mandated," he said.
Councilman Herb Lande agreed that would be a good idea. He said the committee should also be representative of the diversity in the city and include someone from the religious community, the business community, the African American community as well as the Hispanic Community. He said there should also be open dialog between the Police Department and the committee. "We are a very diverse city, and all citizens have to be heard," he said, adding that it should include open dialog between the committee and the police department. "It should be harmonious, not adversarial," Lande said.
Reader poll
5 total votes.
Mays, who serves on the Joliet Housing Authority board and has served on the Forest Park Community board and been involved in other community organizations in Joliet, said it would be best for it to include a representative from each of the five council districts and the diversity in the committee's make-up referred to by Lande could still be achieved.
Anyone who wants to be on the committee should also have to send something to Joliet Mayor Bob O'Dekirk with a bit about their background and why they want to be on the committee, Mays continued.
"There needs to be smart, objective people on this board in order for it to work," he said.
Police accountability, transparency and open dialog also should be goals of the new committee, Mays added.
"Everything is not about race, and I'm saying that as a black man," he said. "I've been pulled over a number of times for no reason, but I've also be all over talking to many police officers and there's a lot of good ones out there."
Mays said he is glad the city is looking at creating another Citizen's Review Board, and just wants to see it done right. Otherwise, he added, nothing good will come of it.
Both Quillman and Lande said there is progress being made with the Police Department with the administrative changes at the top. Quillman also pointed to the new contract to upgrade tasers for officers that includes adding data storage for future police body cameras and an option for residents to upload videos of incidents involving police right to the department's website.
Lande is confident the body cameras for officers will happen once the city finds a revenue source to purchase them.
"I think the popular consensus among the police department and council is that body cams are a good idea," Lande said.