Malec goes from 'interim' to permanent Joliet Police Chief
First woman chief in city's history
By Rex Robinson | 2/17/2021, 6 a.m.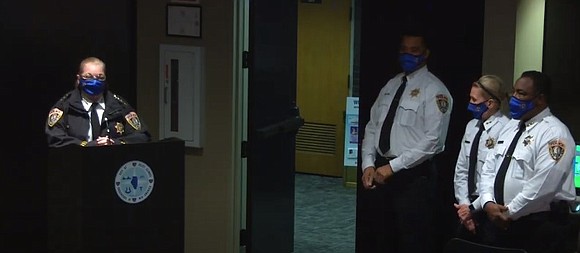 What began as an interim position became a permanent one on Tuesday, as Dawn Malec officially became Joliet's Police Chief.
In his first big move in his new job, Joliet City Manager James V. Capparelli in early January announced the appointment of then-Lieutenant Dawn Malec to Interim Chief of Police for the Joliet Police Department. Capparelli announced Tuesday that Malec's position will now be permanent.
She replaced Al Roechner who retired, according to city officials.
Malec began her career with the Joliet Police Department in 1994 as a patrol officer and rose through the ranks to sergeant in 2009 and lieutenant in 2014.
"I am confident Dawn will continue to serve the City of Joliet as interim police chief with the same just and capable leadership that has been a hallmark of her 26 years of service to the department," Capparelli said. "I am looking forward to working with her in the coming months," he continued.
Malec earned a master's degree in public safety administration from Lewis University, a bachelor's degree in criminal justice from Governors State University and an associate degree from Richard J. Daley College. She is also a 2013 graduate of the Northwestern University School of Police Staff and Command program.
"I'm absolutely ecstatic to be afforded this opportunity," Malec said. "I'm excited to build relationships with each and every one of you."
Soon after being named interim chief, Malec appointed Lt. Sherrie Blackburn, deputy chief of administration, Sgt. Carlos Matlock, deputy chief of investigations, and Lt. Robert Brown, deputy chief of operations.