Test Pattern Open now in Chicago through Music Box Theatre's virtual cinema at musicboxtheatre.com
A powerful debut exploring gender, race and consent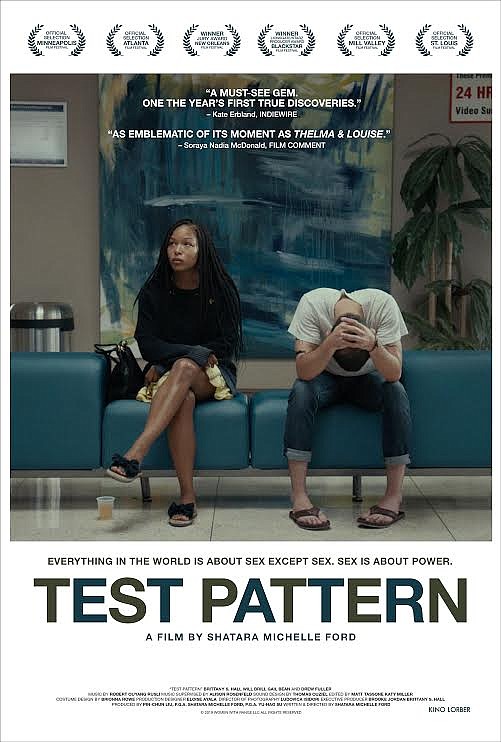 Credit director, producer and writer Shatara Michelle Ford with taking a very compelling look at a lingering problem, that of date rape and the continued diminution of women in the criminal justice system. Hers is a statement made even more powerful by the fact that Test Pattern is a beautifully made film with a stunning central character (a luminous Brittany S. Hall as the victimized Renesha) and the charming and ruggedly handsome Will Brill as the other half of their interracial relationship, Evan.
Shatara Michelle Ford is a black American filmmaker born in rural Arkansas and raised in St. Louis, Missouri. In 2010, she received an MFA in Screenwriting from Royal Holloway, University of London. Shatara's work explores class, power, womanhood, identity, perception and race.
Intellectually propelled by the LA Rebellion film movement and stylistically influenced by Neoclassical directors; her films feature marginalized characters with rich internal lives that defy dominant stereotypes. Her script, QUEEN ELIZABETH was featured on the 2017 Black List. TEST PATTERN is her debut feature.
The film analyzes the effects of the systemic factors and social conditioning women face when navigating sex and consent within the American patriarchy, along with exploring institutional racism from a Black female point of view.
Test Pattern takes place in that haven of urban millenlals, Austin, Texas. When Evan, the free-spirited owner of a local tattoo parlor, spots the willowy Renesha dancing at the local Reggae, Rum and Beer bar, he sheds his shyness and asks for her number. Time passes, and after a run-in at the local gas station convenience store, he finally calls. They click, in spite of the glitch start to their relationship.
Things are quickly in the upswing. Renesha lands a dream job as a community outreach director for a local animal shelter, a coup for an avid animal rights activist, and Evan's tattoo business is booming.
As expected, storm clouds quickly develop. A girl's night out with close girlfriend Amber (a too-cute Gail Bean) turns dangerous when tequila shots get mixed with marijuana-laced Gummy Bears provided by smooth talking hustler Mike (a Rickie Martin-ish Drew Fuller) and his ride-or die buddy Chris (a smarmy Ben Levin). Mike swoons Renesha out of the club and into his bed. She's in a drug-induced coma and can't resist his advances. At least he's man enough to drop her at home the next morning, where the panicked and heart-broken Evan awaits.
Righteously pissed, Evan non-the-less man's up and demands that Renesha be taken to the hospital for a Rape Kit. He files a police report, in spite of her vehement protests.
Here's where the director makes her point. Evan and Renesha get the run around at every turn. The clinic never seems to have a specialist available to administer the rape exam and the cops drop the case after little to no investigation. Women's Movement or no, nothings changed in the last 50 years as far as protections for women against sexual violence!
Shatara Michelle Ford gets a standing ovation for creating a beautifully cohesive film with some stunning cinematography by Ludovica Isidori and Original Music by Robert Ouyang Rusli.
One particularly imaginative scene combines the music of Tchaikovsky's Nutcracker Suite, the familiar and melodious Waltz of the Flowers, over a slo-mo walk-through scene at the Rogers Hill Medical Center, where Renesha finally gets her rape-kit test. It's an emotionally crushing scene that is elevated with dramatic tension through artful photography and contrasting music.
Test Pattern is available now in Chicago through Music Box Theatre's virtual cinema at musicboxthetre.com. Check it out.