Joliet District 204 board approves hybrid in-person learning
By Rex Robinson | 2/18/2021, 6 a.m.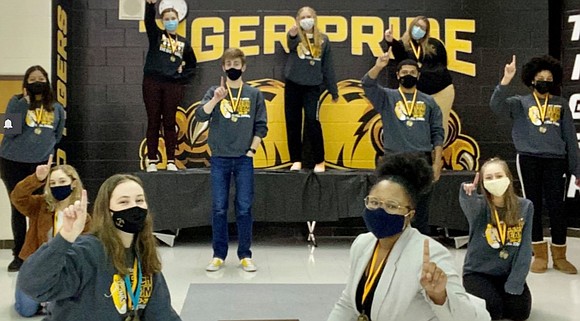 Students will soon be returning to classes for in-person learning at Joliet Township High School District 204.
The school board on Tuesday approved a recommendation to offer hybrid in-person instruction starting March 8.
"This decision is possible because of access to the vaccine, the move into Phase 4 with declining infection numbers, and the masking, distancing, and cleaning plan we have put into place," Supt. Karla Guseman said in a letter to parents posted on the district's website.
Parents have the option of changing their student's schedule to remote at any time. Students can switch to hybrid only if there is room in all their classes.

The district's hybrid model divides students into 3 groups: Group A, Group B, and Group C.  On days when students are not in the building, they are learning remotely.
District officials have related to students the following rules for hybrid learning: Students attending class in-person will use their earbuds or headphones to participate in the lesson with the remote students. All students and staff wear masks and maintain six feet of distance. There is no gathering in the hallways, working closely in groups, or sharing materials. Students will not dress for Physical Education, use locker rooms or any school lockers. Students receive a free bagged meal when leaving the school and there is no eating in the building or buses.
Transportation is provided to hybrid students who live within school bus boundaries. Students must wear masks on the bus, maintain six feet of distance, and sit one person to a bus seat, unless students reside in the same household. On days when the student is attending school in person, a parent or guardian must pre-certify that his/her student does not have COVID or COVID like symptoms. Parents/guardians pre-certify their student by completing a short survey accessible through a mobile app or electronic device. When students enter the building their temperature is taken, and they must show proof of pre-certification. We will send specific directions for parents and students prior to March 8.

The school building is cleaned throughout the day and at the end of each school day. Students wipe down and sanitize their desk each period. Hand sanitizer and disinfectant wipes are available in all classes.
If necessary, the hybrid learning structure allows us to take an "Adaptive Pause" for reasons such as increased positivity rates, COVID transmission, and quarantines. During an Adaptive Pause, students do not come to school. Teachers deliver their lessons remotely. An Adaptive Pause can take place for the entire school, or a specified class or area of the school.

More information is available on the district's website at https://www.jths.org/.